4Club.com Thinks It Can Use Sham Females To Hook Men Into Upgrading



Site Reviewed:
4club.com:
Summary Of The Scam:
Receiving 23 Email Messages In Spite Of Having A Blank Dating Profile

38 Women Have "Favorited" Our Profile

Images "Borrowed" From Adult Photo Sites That Are Then Used To Fabricate Member Profiles
Receiving 23 Email Messages In Spite Of Having A Blank Dating Profile:



We said this countless times but it's worth saying once again. Any time you start receiving an inbox full of email messages when you have just register you need to be very cautious. This has always been a telltale sign that the site you just registered on is not operating lawfully. These emails unfortunately are used to trick and dupe free members into purchasing memberships to that dating site. In this specific case 4club.com is using this specific deceptive method in order to push people into purchasing a membership subscription to their dating site.
This is an old technique which unfortunately is used by countless fraudulent dating services. And unfortunately as of this date only one dating service (JDI Dating) has been reprimanded by law enforcement and fined $600,000. Until there is a cracked down on shady dating services this crime will continue. Also another thing to be aware of is that any emails are not sent from real women obviously. The messages are emailed to members using computer software. This is why you receive countless emails, they are all automated.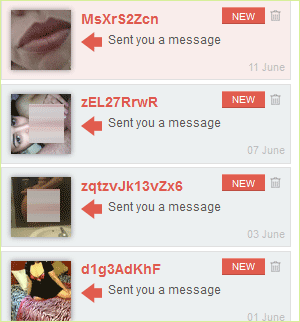 (some of the fake emails we received)
Images "Borrowed" From Adult Photo Sites Then Used To Fabricate Member Profiles:



We've already stated that this site uses profiles that they themselves have created. Contrary to what they want you to believe, they are the ones creating the faked female member profiles. The people they employ are paid to create the phony profiles. If you take a look in the members area and you have any common sense it becomes quickly evident that real women wouldn't be posting photos of themselves in the matter that we have seen. Legitimate adult dating sites many times will have faces of the women blurred out, or they will be wearing sunglasses or something else to the hide their true identity at least a little bit. But on this site all the women are more than happy to show smiling faces while being completely nude. This is because these photographs are not of real members but have been taken from many sources online. These sources include adult image sites and adult escort sites.
Usually the website we are reviewing admit to faking profiles if you read their terms pages. In this particular situation no such evidence was found in the terms pages. That doesn't mean they're not fabricating fake member profiles it just means they're just not telling us about it.
38 Women Have "Favorited" Our Profile:



Surprising to us is that we have become so popular on 4club.com! Apparently 38 women on the site have favorited our profile. This is completely laughable since the profile we created for this review like we stated has absolutely no images and no information. Why then are any women adding us to their favorite list? The answer is, they are not real people. This is all another marketing deception that 4club.com uses to give you the impression that women are interested in you. This of course is not at all possible in our case since our profile has zero information in it! It's just another deception used unfortunately to get men to upgrade.


38 women have favorited our profile, all phony of course.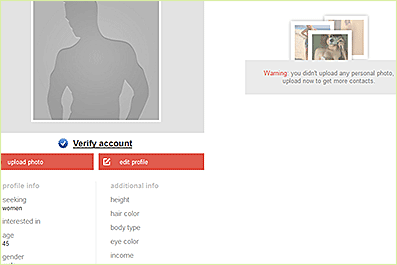 Proof that our member profile has zero photos and no other information.
Automatic Monthly Charges To Your Credit Card:



Hopefully you found this information before you gave these people your credit card information. If you did give them your credit card info you must understand that you will be getting credit card charges every month. This website works on a recurring system which automatically charges your credit card every month until you stop it. You can find how to cancel those recurring charges in this article.
Taken from the terms page:
"Automatic renewal of the membership:
If a Member purchases one of the subscriptions on the Internet by credit card, it will be automatically renewed for the same duration of the subscription, if there's no cancelation request from the Member, done according the procedure explained in the "Account settings"/"Account status" section, or by clicking on this link in case of purchase through EPOCH – within the following deadlines:
Not later than 24 hours prior to the subscription expiry, in case of a 2 days subscription;
Not later than 7 days prior to the subscription expiry, in case of a monthly subscription;
Not later than 60 days prior to the subscription expiry, in case of an annual subscription;
Not later than 90 days prior to the subscription expiry, in case of a 18 months subscription."

How To Contact The Site:

How To Cancel Your Trial & Monthly Membership:
If you want to cancel your paid trial or monthly subscription to this site you can use the various methods that we have listed below to do so.
Cancel By Email:

[email protected]

Cancel By Phone: +41 (0) 91 60 464 86
Cancel By Mail:
*If you bought a membership on 4club.comthe name appearing on your bank statement will be TKD CH 4CLUB – www.pay-tkd.com
Domain Registrant Info:

Other Sites On Same IP Servers:
4club.cz, 4club.co, 4club.tw
Traffic Info:
Unique Daily Visitors: 456,666
Unique Monthly Visitors: 13,700,000

(traffic statistics from December 2014 to May 2015)

The Judgment:

The truth is the truth and 4club.com is now confirmed to be using sham profiles and emails sent from software bots and not from real people. If you don't believe us by all means create a free membership and we can guarantee you that you will see the exact same results as what is shown here.
Find Legitimate Women Here:
If you want to find real women on genuine dating sites go here.

File Consumer Complaints & Report Abuse: