Bbwdesire.com Targets Lonely Men & Sucks Them Into Buying A Membership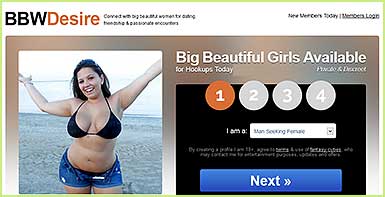 Site Reviewed:
Bbwdesire.com:
Summary Of The Scam:
Fantasy Profiles Used To Make People People Believe They're Real Member Profiles

This Site Is An Entertainment Site Not A Dating Site, A Big Difference

Interactions Such As Emails And Instant Messages Are Either Computer Generated Or Sent By Paid Contractors

You Cannot Meet The 3rd Party Contractors That Run Fantasy For In Person Meet Ups
Fantasy Profiles Used To Make People People Believe They're Real Member Profiles:



It's time for people to start fighting back. When so called "dating sites" like Bbwdesire.com think it's fine to use "fantasy profiles" we need to take a stand for our fellow humans who have no idea this is going on. First off Bbwdesire.com is making virtual profiles and then uses them all over their website to hoodwink regular people who are looking for one another on their site. We're here to stop this garbage and get the word out about what's going on in the dark corners of this site. They use pictures of attractive BBW women and then create pseudo profiles. Of course the profiles look real, they're supposed so they deceive and bamboozle people into thinking these are real girls!
And the really crazy thing is that they outline these imitation member profiles and tell everyone about it BUT no one pays attention! On the front of their site they have written the following and we quote "By creating a profile I am 18+, and agree to terms and use of fantasy cuties who may contact me for entertainment purposes…" Right there a red siren should be going off in your head. What the hell are fantasy cuties? If you click on the terms link it explains it all. Section 4c is where you want to look because the owners of this site have outlined their whole con right there for everyone who is paying attention to see.
The creation of fictitious women is quite ingenious but obviously that doesn't make it right. They know that most people couldn't believe that such a deceptive scam was going on but now you dear reader know the real truth.



And every counterfeit profile has a logo you should be aware of and watch out for. The logo looks like this
. This is a yellow star with the letter FC in the middle of of it. This is an abbreviation for Fantasy Cuties (bogus females). From our research for this review every single girl we viewed was a Fantasy Cuties. We didn't even spot one legit girl on this site.
Taken from the terms page section 4c:
"THIS SITE UTILIZES FANTASY PROFILES IDENTIFIED AS FANTASY CUTIES. You comprehend, acknowledge, and accept that some of the profiles listed on the Site may be operated by our Site or third party contractors and are fictitious. These profiles and interactions generated from them are clearly labeled with the Fantasy Cuties logo:
.You comprehend, acknowledge, and agree that the interactions, profile information, and content utilized by Fantasy Cuties profiles do not originate from any actual Site member, but are present for educational, entertainment and Site monitoring purposes only. Any similarity between Fantasy Cuties profile information or interactions to any real person is purely coincidental and fictitious. "
The Reason They Use Made Up Profiles In The First Place :



The owners of this don't care about you one bit. They make up fake profiles for one reason and that is greed. Whenever you try and respond to any communications (emails and chat messages) you get from women on the site who are Fantasy Cuties you always need to have a paid membership. That's the number one reason they use profiles they themselves have designed and created.
Interactions Such As Emails And Instant Messages Are Either Computer Generated Or Sent By Paid Contractors:



Don't get too excited when a flood of messages pours into your email inbox from BBWs. Any emails that are sent to members are from computer programming. This site has devised a sneaky plan of using computers to send their members email messages that look like BBW girls are emailing you. Guys listen up, this is all make-believe. Unfortunately they think it's ok to send people automated emails from artificial women. The messages seem authentic however it's all a trick devised to suck you into paying for a subscription so you can send and reply to emails from the Fantasy Cuties. Computer programming is only one of the ways they send fake e mails to people.
The second method they have concocted to send emails to men who join their site is to pay contractors who pretend they are the girl behind the profile you're interacting with. The contractors lie and deceive anyone they can on the site. Their job is make you believe that you are chatting to the girl in the profile, it's all 100% bogus! This "entertainment site" is designed to manipulate you so you think all the emails are real. The fastest way to identify if the profiles are real is to look for the yellow star
.
Taken from the terms page section i6:
"Interactions originating from Fantasy Cuties functionality could be computer generated or could be created by the Site or third party contractors hired by the Site. Staff of Site or third party contractors hired by the Site could operate multiple Fantasy Cutie profiles and associated communications features."
You Cannot Meet The 3rd Party Contractors That Run Fantasy For In Person Meet Ups:



This doesn't need to be said but when we were reviewing the terms and conditions of the site the administrators who wrote that page state that third parties hired by the site who operate the Fantasy Cutie profiles will never meet you in person. You need to agree that no in-person meeting will ever happen between you and the people running their phony profiles. Obviously you can't meet up with a fake person who doesn't exist! But for the site to actually write that in their terms and conditions just exemplifies that this whole site is completely imaginary. They tell everyone that they create Fantasy Cuties but on top of that they tell you that you can never meet them in person. Well that is obvious. But why then are they creating Fantasy Cuties that we can never meet in person. It's disgusting, and it must be illegal. It's also very frustrating when you think you're receiving real emails from women that you plan to meet in person only to find out that they're as human as a Barbie doll. And the real big problem is many people don't find out until after they buy a monthly membership to the site, but then it's too late they already are out at least $30 for every month that they've purchased a membership.
Taken from the terms page section 4e:
"You comprehend, acknowledge, and agree that no in-person meeting will ever happen between You and the people providing Fantasy Cuties functionality, and that the interactions You have via Fantasy Cuties functionality is for entertainment purposes in addition to encouraging participation in our Service and to help monitor use of the Service. "
How To Spot Fake Profiles:



Guys, if you want to know how to identify and spot phony dating profiles on all sorts of dating sites, then this video will help you identify them fairly quickly. You can use these tips not only on BBW Desire but on tons of other dating sites. This will alleviate the problem of wasting time contacting phony profiles from people who don't exist.
You Can't File A Class Action Lawsuit Against Them:



This part of the terms and conditions is a real beauty. Apparently when you agreed to use the site you agree to the terms and conditions which involves agreeing that you will not participate in any in any sort of class action lawsuit against the company. That's quite an amazing statement. In another part of the terms and conditions they admit to breaking the law and creating fake profiles and using paid contractors to chat with you. The people who run this site are incredible, they're breaking the law but at the same time they don't want you to sue them for breaking the law!
Taken from the terms page section 15:
"NO CLASS ACTION
As a material inducement to Company's offering of the Site and Service to You, and for entering into this Agreement, You represent, warrant, covenant and agree that You shall not initiate, nor participate in – whether as a named plaintiff or as a member of any class of plaintiffs or aggrieved parties – any Class Action lawsuit or action, whether brought in a judicial proceeding or an arbitration proceeding, against Company and/or its directors, officers, shareholders, employees or agents arising out of or relating to this Agreement or the Site or any Service offered through the Site. It is hereby understood and agreed that damages may be an inadequate remedy in the event of a breach of this provision, and that any such breach will cause Company irreparable harm and damage. Accordingly, You acknowledge and agree that Company shall be entitled to immediate injunctive or other equitable relief and to attorneys' fees and costs, without waiving any additional rights or remedies available at law or in equity or by statute, in the event of actual or threatened breach of this provision by You. "

How To Contact The Site:

How To Cancel Your Trial & Monthly Membership:
If you want to cancel your paid trial or monthly subscription to this site you can use the various methods that we have listed below to do so.
Cancel By Email:

[email protected]

Cancel By Phone: 844-399-9749 (+1-619-900-1607 OUTSIDE USA)
Cancel By Mail: FH International Limited, PO Box 440, Envoy House, La Vrangue, St Peter Port, Guernsey, GY1 3ZN
Domain Registrant Info:
Registrant Name: WHOIS AGENT
Registered: on April 12, 2012
Hosting Company: Amazon Data Services Ireland
Hosting Location: 1200 12Th Avenue South, Seattle, WA, 98144,
Ip address: 54.247.69.18
Name servers: NS1.POWERZX.COM, NS2.POWERZX.COM, NS3.POWERZX.COM, NS4.POWERZX.COM
Registrant Email:

[email protected]

Registrant Phone: 1.4252740657

Other Sites On Same IP Servers:
Blackcrush.com, Milfaholic.com, Localmilfselfies.com, AffairAlert.com, LonelyWifeHookup.com, FreeWifeHookups.com, FlirtBuddies.com
Find Legitimate Women Here:
If you want to find real women on genuine dating sites go here.
Traffic Info: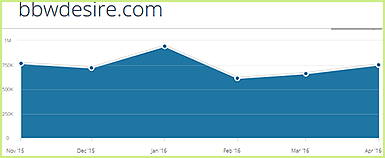 Unique Daily Visitors: 25,000
Unique Monthly Visitors: 750,000

The Judgment:
Bbwdesire.com is designed to siphon money out of men thinking they are on an authentic dating service. Unknown to them is that the whole site is a phony. But you now the reality as we have pointed out in this review. Information is power and you have the information so now you have the power to make the right choice.
If law enforcement wanted to shut down the site where they would have absolutely no problem. Administrators of the site tell you exactly what they're doing it on their own website. There for anyone to see including the FTC, FBI and then any other government agency willing to take a look at BBW desire.com. Obviously law enforcement hasn't taken a look at this side or they would be closed as of right now.

File Consumer Complaints & Report Abuse: