Caution: Snapbang.com Is Duping & Fooling Us & It's Something You Should Be Aware Of



Site Reviewed:
Snapbang.com
Summary Of The Scam:
Automated Notifications (Emails) Used As A Mechanism To Make You Want To Buy A Subscription
Automated Notifications (Emails) Used As A Mechanism To Make You Want To Buy A Subscription:

Emails, instant messages, chat messages etc all of it is automated! When something is automated it means it's not a personal chat message or a personally written email. To be completely clear all types of communications aren't being written by real people on Snap Bang. If you get emails from women on the site please understand the emails are automatically being sent through computer software. The computer software is built from the ground up and is created to perform a specific task, to email, message and notify people on the site (all automatically generated). Anytime someone emailed us and we tried to respond back we were requested to buy an upgraded subscription.
For the most part people who join Snapbang.com have absolutely no idea that software programs are used to automatically email and chat with people. A regular web user would just assume that females interested in them are writing email and typing out instant messages, that's not what's going on. And it's very easy to get sucked into emailing people back but always remember that you have to upgrade. That is the whole premise behind the automatic messages, it's a tool to entice you to buy a subscription. Can you understand why you are receiving a large amount of messages?
The software program that Snap Bang uses it called "While Were Away", which is as we've already stated an automated software program that sends out automated responses. We should stress that although the automated messages are very misleading and make you believe that other members are contacting you directly this is in our opinion not a scam.
We almost forgot to mention that if you start getting notifications from female members that have visited your profile this once again is not from girls looking at your profile but part of the automated process that the website likes to use, This is something you should be aware of so you can understand how the site operates, enabling you to make the right decision.
Taken from the terms page:
"The Site may, from time to time, offer an automated message and response program called "While You Were Away". You may change your settings for "While You Were Away" at any time by updating your account settings"
The Site Says They Don't Use Service Created Profiles:
Tons and tons of sites use fake site created profiles. But Snapbang.com tells us that they don't create or use "service created profiles". That could very well be the case but if you look at the some of the women on the site they look more like porn stars than regular women you would see walking down the street. Does that mean they are creating fabricated profiles? Who knows. But if you get messages from porn star looking girls and you're just an average Joe you better make sure the girl is really emailing you before you take the plunge and upgrade your free subscription to a paid one.
In all honesty we don't have any valid proof that the site is using fabricated profiles. You must use your common sense and like the saying goes if it looks or sounds too good to be true it probably is. If you're getting messages from pornstar looking women maybe you should think twice before upgrading.
If you do a quick search on the site and take a look at the search results you will see a variety of female profiles. You really need to ask yourself if these women are actual members of the site or maybe these are made up profiles. The amount of hot looking girls exposing themselves on Snapbang.com is beyond ridiculous. We're not saying it's a scam that the site is behind send but something doesn't feel right about it.

How To Contact The Site:
By Phone 1 877-717-3257 or 1 786-522-0587
By Email:

[email protected]

By Address:

705 Washington Ave 2nd Floor, Miami Beach, FL. 33139

How To Cancel Your Trial & Monthly Membership:
If you want to cancel your paid trial or monthly subscription to this site you can use the various methods that we have listed below to do so.
Cancel on their support site: Gpnethelp.com
Cancel By Email:

[email protected]

Cancel By Phone: Call customer service toll free at 1 877-717-3257 or 1 786-522-0587 if you're outside the USA.
Domain Registrant Info:
Registrant Name: Registration Private
Registered: on October 16, 2013
Hosting Company: Global Personals, LLC
Hosting Location: 705 Washington Ave, 709 Washington Ave, Miami Beach, FL, 33139, US
Ip address: 208.91.207.91
Name servers: NS1.DPNET.COM, NS3.DPNET.COM, NS4.DPNET.COM, NS2.DPNET.COM
Registrant Email:

[email protected]

Registrant Phone: 1-949-250-7340

Other Sites connected to Snapbang.com:
Fling.com, Letsbang.com, Instabang.com, Meetlocals.com, Milfplay.com, Letsbesexy.com, Fucknow.com, 420bang.me, Fuckdate.com. Snapsext.com
Traffic Info: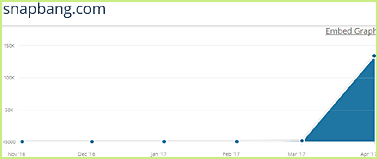 Unique Daily Visitors: 4,333
Unique Monthly Visitors: 130,000

The Judgment:
Would we upgrade on this Snapbang.com no. Why? Automated emails are used in our opinion to misguide and lure people to the upgrade page. Why should we give our business to a website that's trying to hoodwink us with computer generated notifications (emails, instant messages etc).
Find Legitimate Women Here:



If you want to find real women on genuine dating sites go here.

File Consumer Complaints & Report Abuse: