CheekyLovers.com Is Just Another Rip Off Designed To Make Money Off Of Your Ignorance



Site Reviewed:
Cheekylovers.com:
Summary Of The Scam:
Fabricated Women Designed To Appear To Be Real Members But They're Not

Make Believe Email Messages From Fabricated Women
Fabricated Women Designed To Appear To Be Real Members But They're Not:



This may be news to you or not but did you know that Cheekylovers.com is responsible for fabricating the profiles of female members. The hot girl you thought was located a couple of miles away from you is probably not a legitimate member. Unfortunately this site is manufactoring profiles of females. The member profiles they create look identical to legitimate profiles, you would never be able to tell the difference and that's the way they want it. The problem is, most men who use dating sites are unaware of the possibilities of the site manufacturing fake female profiles. This would never cross their mind because it does seem ludacris until you understand why they do it. The number one reason they manufacturer women's profiles is to populate their dating site with hundreds if not thousands of female member profiles. This makes it appear that there are thousands of legitimate females looking to hook up. Unfortunately this is far from the truth, as less than 5% of the female profiles on this site are probably legitimate. This means your opportunity to interact, chat and possibly meet legitimate women is almost nil.
Taken from the terms page section 1:
We may, from time to time, create profiles which are created, maintained and managed by our employees ("Staff Profiles"). The purpose of these Staff Profiles is to enable us to ensure our Services are operating properly by testing the Services, features and functionalities, and to research our products and Services. All Staff Profiles will be identifiable as such and in the event that you opt to communicate or interact with a Staff Profile you will be made aware of the nature of this Staff Profile. Staff Profiles will not interact with users in any way and exist for the sole function of allowing us to test our website on a real time, live environment. You expressly acknowledge that you are aware of the existence of Staff Profiles for testing purposes and you agree not to contact a Staff Profile in any way. "
Make Believe Email Messages From Fabricated Women:



Some of these sites have absolutely no imagination when it comes to scamming people. For instance cheekylovers.com within a few more seconds of registering start sending people email messages and they don't stop. They continue pounding you with fabricated email messages all day and night. And to add insult to injury if you try to read the messages you're getting from these site fabricated females you can't. You need to pay a monthly subscription to these extortionists if you want to read fake automated emails from women who don't even exist on the site. And they call this a dating site?
We had 14 emails from 14 different women., but we can't read the messages until we upgrade. Yeah, we need to upgrade to read computer generated emails from women who never even sent us the messages!


(14 email messages all used as a method to bamboozle free members into paying for upgraded memberships)
You're Profile Is Used On All Of Their Web Sites:



Something else you should be aware of when you sign up on this dating site is that all your information including your photographs and anything else you put in your profile is then used on the other sites that are run by the company. Your profile will appear on Loveaholics.com, Naughtydate.com, Naughtyfever.com and many other sites.
Taken from the terms page:
"You authorise us to reproduce and broadcast the information contained in your profile including your name, photograph, "chat up line", description etc. throughout all or part of our Partner Sites and our Group Companies for the purposes of delivering the Services to you."
Embellished Winks And Views:



All the winks and views that we received to our member profile were all generated by a computer software program. These are all artificial and Cheekylovers.com is responsible for sending them to free members such as us. Unknowing users will have no clue that they are receiving fake winks and fake views to their profiles. They will think that real people are viewing their profile. When this happens they may want to contact the people who have been viewing their profiles. And, when you try to contact anyone on this service you have to pay. This is the reason Cheeky Lovers uses fictitious profile views, it's all a clever way to get free members to upgrade to a paid subscription.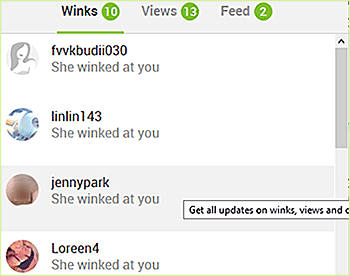 Automatic Monthly Charges To Your Credit Card:



If by chance you purchased a full membership on this site you should be aware that your credit card will be automatically charged every single month until you cancel. If you don't want automatic billing you should probably cancel your subscription to this site because they will continue billing you every single month forever.
Taken from the terms page:
We operate an automatic renewal billing policy.
This means that once your initial membership period has expired, for your convenience, your membership will automatically be renewed at the same rate that you signed up for using the original payment method. For example if you pay by credit card, we will continue to debit this same credit card as each subscription period expires. We will only debit these repeat payments when your current payment period expires and not before."

How To Contact The Site:
By Phone:

1-800-489-6091 or 1-212-796-5746
By Email:

[email protected]

By Web Site: CheekyLovers.com/site/contactUs
By Address: P.O. Box 146, Trident Chambers, VG1110, Road Town, Tortola, British Virgin Islands
Vincenti Buildings, 28/19, (Suite No. 1374), Strait Street, VLT 1432, Valletta, Malta

How To Cancel Your Trial & Monthly Membership:
If you want to cancel your paid trial or monthly subscription to this site you can use the various methods that we have listed below to do so.
Cancel By Email:

[email protected]

Cancel By Phone:
Cancel By Mail: P.O. Box 146, Trident Chambers, VG1110, Road Town, Tortola, British Virgin Islands
Domain Registrant Info:

Other Sites On Same IP Servers:
None
Traffic Info:
Unique Daily Visitors: 7,666
Unique Monthly Visitors: 230,000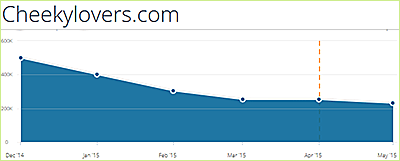 (traffic statistics from December 2014 to May 2015)

The Judgment:

How can you use a dating site that has everything going against you? There aren't any real women, the emails and chat messages are are all automated. Realistically we would have to say it's almost impossible to meet real girls on this site.
Find Legitimate Women Here:
If you want to find real women on genuine dating sites go here.

File Consumer Complaints & Report Abuse: