Did You Know: Nostringsfun.com Is A Fraud, It Has No Real Girls On It



Site Reviewed:
Nostringsfun.com:
Summary Of The Scam:
Phony Profiles Hidden In Plain View Used To Deceive People

Fake Prewritten Automated Messages Sent From "Virtual Profiles"

They Hire People To Pretend To Be Real Members But They're Not
Phony Profiles Hidden In Plain View Used To Deceive People:



If you're wondering what were talking about when we say that there are fake profiles hiding in plain of everyone to see, we mean it. You might not believe it but they tell every person exactly what they're doing. But they know that no one will take the time and sift through their website looking for the terms and conditions page. If they did look at the terms and conditions page most people would be shocked to read that no strings fun.com confesses that they do post fictitious profiles throughout their site. Fictitious means something that is not real. They're telling everyone they are creating profiles that are not real. It doesn't make much sense, why would a dating site create bogus profiles? Online dating is a billion dollar industry and people who have entered this industry and have started creating dating sites that are not real have no remorse and all they care about is greed and money . Yes, they take on the impression of being a real dating service and then even function like a real dating service but they're missing the key factor that makes a real dating service. That key factor is REAL women. No Strings Fun has no real women and if they do it has to be under 1% of all members on the site. Nobody here is authentic they are for the most part bogus.
Taken from the terms page section i6:
"In order to enhance your amusement experience, to stimulate you and others to use our Services more extensively, and to generally sprinkle some sparkle and excitement into the Services of STEAMYDATES.COM, we may post fictitious profiles…"
Fake Prewritten Messages Sent From "Virtual Profiles":



Another piece of damning information that can be found on the terms and conditions page is where they confess and tell everyone that they respond to emails using automated software programming! They confessed that the software programs are created to simulate your communication with another real human even though it doesn't really exist. They go on to State any of the dialogue that you would find in a regular email is generated using computer programming. Then they mention even though these emails seem genuine and real they could be sent simultaneously to a large number of other people besides just yourself. Remember this is coming directly from them, it's not something that we think is happening, this is actually happening and they're telling everyone exactly how it's being orchestrated.
How many emails did you receive? Do you think they're from real women? Now you probably know what's really going on with this dating service. It's all a big hoax just like American politics. The politicians say one thing but do the exact opposite. Nostringsfun.com says they have a dating site but then they do the exact opposite and try to scam you. It's no different. These are 2 faced criminals using internet technology to defraud people by using computer software to send email messages to their members hoping they will buy a paid membership package to be able to communicate back to the phony computer generated emails. A very elaborate scheme but nevertheless a criminal act.
Taken from the terms page section i6:
"we may generate or respond to communications by means of automated programs or scripts that simulate or attempt to simulate your intercommunication with another real human being (though none really exists and any dialog is generated by programming), While these communications may seem genuine, authentic, and personal, they may be broadcast simultaneously to a large number of persons and possess none of these qualities."
They Hire People To Pretend To Be Real Members But They're Not:



This is the icing on the cake when we read this we almost fell off our chairs. Are you ready? Here we go. Nostringsfun.com hires and employs people, real people who are paid to interact this includes chatting and sending emails to members of the site! The communications such as emails from these people seem real and legitimate however these messages are broadcast and sent to large amounts of people possibly hundreds or thousands of people at the same time as you receive them. The emails sound real but they're totally false and a scam.
The people employed are hired to do one thing and that is to lure you into upgrading to a paid membership to their dating site. They are paid to get you to upgrade. There's no use in hiring paid employees unless people are spending money to upgrading. This whole con is about money and money is what fuels this whole operation from beginning to end. Without money they wouldn't even be trying to defraud anyone.
Taken from the terms page section i6:
"and we may employ or contract for the paid services of real persons who may interact with you as part of their compensated employment. While these communications may seem genuine, authentic, and personal, they may be broadcast simultaneously to a large number of persons and possess none of these qualities. While their contents may appear to be true, they may be quite false; while their contents may appear to sincere, they may be quite disingenuous. Sometimes, we may use these techniques or others like them for other business purposes, too, including, but not limited to those cases in which we monitor and/or investigate into operations, including but not limited to allegations that you or others have violated this Agreement."

How To Contact The Site:

How To Cancel Your Trial & Monthly Membership:
If you want to cancel your paid trial or monthly subscription to this site you can use the various methods that we have listed below to do so.
Cancel By Email:

[email protected]

Cancel By Phone: 1-866-883-4978 or 1-925-264-3473
Cancel By Mail: FH International Limited, PO Box 440, Envoy House, La Vrangue, St Peter Port, Guernsey, GY1 3ZN
Domain Registrant Info:
Registrant Name: FH International
Registered: on October 2, 2008
Hosting Company: Amazon Data Services Ireland
Hosting Location: 1200 12Th Avenue South, Seattle, WA, 98144,
Ip address: 54.228.206.139
Name servers: ns-338.awsdns-42.com, ns-1422.awsdns-49.org, ns-1567.awsdns-03.co.uk, ns-652.awsdns-17.net
Registrant Email:

[email protected]

Registrant Phone: 44.8708200283

Other Sites On Same IP Servers:
None
Traffic Info:
Unique Daily Visitors: 28,666
Unique Monthly Visitors: 860,000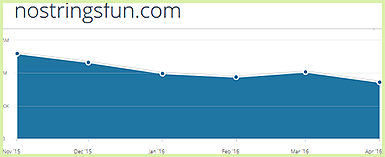 (traffic statistics from November 2015 to April 2016)

The Judgment:

What is our judgement for Nostringsfun.com? Obviously this website was created for the wrong reasons and that is to line the pockets of the people who created it in the first place. It wasn't created to bring people together or to offer a true legitimate dating service. No, this website does everything possible to break the law. Using automated bots to send you emails and hiring people to pretend to be members of their site. If someone from a law enforcement agency or consumer protection agency took a close look at this dating service they could be in serious trouble for the laws that have been broken here. Other bogus sites like Justhookup.com have had to pay a $620,000 fine for the exact same behavior as what this site is doing this very minute.
Find Legitimate Women Here:
If you want to find real women on genuine dating sites go here.

File Consumer Complaints & Report Abuse: