Did You Know That Loveaholics.com Uses Fake Emails And Fake Girls?



Site Reviewed:
Loveaholics.com:
Summary Of The Scam:
Girls That Look Like Porn Stars Who Are Not Real Members Of The Site

Email Communications From Obviously Sham Women That Look To Good To Be True
Women That Are Not Real Members, The Female Photos Might Fool You But Not Us:



Maybe you don't know any better but we certainly do. We can tell you without a doubt that Loveaholics is not nearly what it seems. Just take a look at the photographs of the so-called female members of their site. Do you actually think that these women are real registered members of Loveaholics? If you do then you are sorely mistaken. You have already been scammed without even realizing it.
Most of the females on this site look like amateur porn models. They do not look like regular women looking for a f*ck buddy to hook up with. Don't get duped into thinking these are real girls, they are not. Sifting through the profile photographs on the site every single girl was nude, slim and has large breasts. This is not a real overview of the general population. The reason this site looks like it has so many beautiful women is because it has been designed to look that way. Every profile photograph has been picked and then created a profile for each of those images. that's why every girl is beautiful. It was designed that way to deceive you into believing that Loveaholics.com is the Mecca of all hookup sites, which it is not.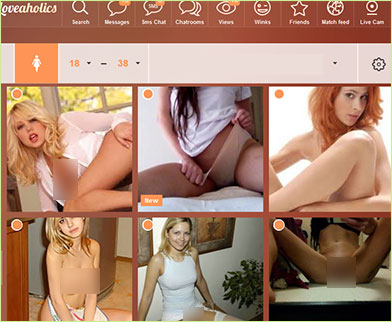 (do these girls look like everyday women looking to hook up? No!)
Email Communications From Obviously Sham Women That Look To Good To Be True:



The messages from all types of scantily dressed girls are not legit. Why are these girls really interested in us? It doesn't make any sense that such attractive looking girls would be emailing us. It's not that were insecure about ourselves but realistically getting email message after email message, minute after minute makes is seem completely scripted and fabricated.
Every email we received we could not read any of them. We needed to upgrade to read the messages sent to us by these women. Unfortunately we know that every email we got by emailed not by legitimate members but by computer robots whose function it is to send out emails to sway people to try to read them at which time you will need to upgrade and purchase a membership plan to the dating service. That's why they use the fake girls and the emails its all a combined effort to get you to buy that membership. This is why the site exists in the first place.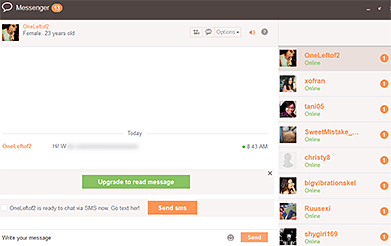 (13 emails were sent to our profile but all the emails required us to upgrade before we could read them.)
You Aren't Allowed To File A Class Action Law Suit Against Loveaholics:



Don't think that just because you know the site is operating a fraudulent manner of matter that you can take legal action against them. In the Terms and Conditions page they specifically state that neither you nor any other person shall be entitled to join or consolidate claims in a class action. Then they say that you acknowledge that you were giving up your rights to participate in a class action with respect to any such claim.
We assume that you can file an individual lawsuit but for some reason they don't want people filing a class action lawsuit against them probably because it would bring the whole company down and bankrupt them financially for all the different deceptions they are using on their members.
"Neither you nor any other person shall be entitled to join or consolidate claims against other affiliates or persons… You acknowledge that you are giving up your rights to participate in a class action or representative action with respect to any such claim."
You Give Them The Right To Use Your Photos :



If you're worried about Loveaholics.com using your photographs for their own purposes you should be. In the terms and conditions you actually automatically grant them the right to use your photographs on the dating site or partner sites, royalty-free with a worldwide license to use it, copy, publish it and display all of your information, your photographs and everything in your dating profile. You also waive any copyright infringement rights when you register on the dating site. They can use your photographs and the content in your profile for the purpose of advertising Loveaholics. That is definitely something to be aware of because you could easily pop up on a banner ad promoting the site according to what they say in their terms and conditions.
"by posting information or content including but not limited to copyrighted content, name and likeness and photographs to your profile pages or any public area of the Services, you automatically grant, and you represent and warrant that you have the right to grant to us, our Partner Sites and Group Companies, a non-exclusive, royalty free, worldwide licence to use, copy, publish, display, reformat, translate and distribute, and broadcast, such information or content and to grant and authorise sub-licences of the same. You further waive any moral or potential infringements rights you may have in any such information or content. We may further We may assign or sublicense the above license to our affiliates and successors without any further approval by you.
Specifically please note that we may use any of your content, including your photographs, for the purposes of advertising or publicity. If you do not wish us to do this, please contact us."

How To Contact The Site:
By Phone:

1-212-796-5746
By Email:

[email protected]

,
By Web Site: Loveaholics.com/site/contactUs
By Address: P.O. Box 146, Trident Chambers, VG1110, Road Town, Tortola, British Virgin Islands
Vincenti Buildings, 28/19, (Suite No. 1374), Strait Street, VLT 1432, Valletta, Malta

How To Cancel Your Trial & Monthly Membership:
If you want to cancel your paid trial or monthly subscription to this site you can use the various methods that we have listed below to do so.
Cancel By Email:

[email protected]

Cancel By Phone:
Cancel By Mail: P.O. Box 146, Trident Chambers, VG1110, Road Town, Tortola, British Virgin Islands
Domain Registrant Info:

Other Sites On Same IP Servers:
Matchtrace.com
Traffic Info:
Unique Daily Visitors: 28,000
Unique Monthly Visitors: 840,000


(traffic statistics from October 2014 to March 2015)

The Judgment:

We wouldn't use this site if it was totally free, why? What is the point in using a site that has no women on it, except for the fake ones that the Loveaholics.com creates?
Find Legitimate Women Here:
If you want to find real women on genuine dating sites go here.

File Consumer Complaints & Report Abuse: