EasyCasualDating.com Has Partnered With www.Kristie-Rapp.us To Spam

Site Reviewed:
Kristie-Rapp.us is a spam domain being specifically used through url redirecton to direct people to a scam site called EasyCasualDating.com.

Evidence:
Junk Email: Below is the spam email received.
Email address:

[email protected]

Subject of email:

Hi! FINALLY I FOUND YOU!!!

Headers:

from mailserver.localhost.com ([83.147.227.107])
Hi, it's Kristie! Do you remember me?
We were friends in childhood, I lived not far from your house!
You can find me on my page: http://www.kristie-rapp.us/
P.S. I know I've changed a little, but I still love you! 😉
<http://www.kristie-rapp.us/ uses url redirection to go to http://www.easycasualdating.com/>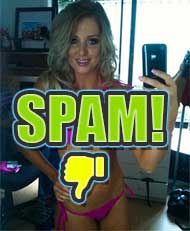 ---
Registrant: Kevin Howard
Registered on October 14, 2014.
Hosted at Ishveran 9, 75003 Paris, FR
Ip address: 94.23.182.25
Name servers: NS1.EVEPROMISE.COM, NS2.EVEPROMISE.COM, NS1.ELEMENTTOUGH.COM, NS2.ELEMENTTOUGH.COM
Registrant Email: [email protected]
Registrant Phone: 1.9124689313

Other Sites On Same IP Servers:
danielle-hickox.us, kendra-goodlett.us, traci-fox.us, mallory-schaller.us

Places To Report Spam: