Flirtydesires.com's Dirty Secret Of Using Artificial Profiles



Site Reviewed:
Flirtydesires.com:
Summary Of The Scam:
They Create Profiles Operated By Their Employees

Automated Notifications Of Instant Messages And Emails
They Create Profiles Operated By Their Employees:



You think it's okay for a dating site like Flirtydesires.com to create their own dating profiles and then let those fake profiles to be be operated by their own employees? Because that's exactly what's happening on this website. We've been around the block a few times and when know that dating sites create fictitious profiles to manipulate their user into upgrading to paid subscriptions. Other sites from the same dating network have been caught doing that exact thing.
The so-called "staff profiles" created by the site in our opinion are used for a two-fold process. The first process is to make it appear to an inexperienced dating users that Flirtydesires.com has large amounts of local women on it. This is absolutely not the case and the use of fictitious profiles makes it look like there are many more women on this site than there really are. These fictitious profiles are created and designed to fill a void. That void is the lack of legitimate females registering on Flirtydesires.com. A dating site is completely and utterly useless if there are no legitimate women joining it. You cannot attract men to join a dating service if there are no women there. Unscrupulous dating services have no problem creating fictitious profiles and sprinkling them throughout the site. In fact we would have to estimate that over 90% of the profiles of females on this site are not legitimate.
Taken from the terms page section 1:
"We may, from time to time, create profiles which are created, maintained and managed by our employees ("Staff Profiles"). The purpose of these Staff Profiles is to enable us to ensure our Services are operating properly by testing the Services, features and functionalities, and to research our products and Services."
Automated Notifications Of Instant Messages And Emails:



As we've already mentioned the use of "Staff Profiles" is a two-step process. Now we would like to explain the second step of the process. They used the so-called "Staff Profiles" is part of a larger agenda which is to manipulate male members into upgrading to a paid subscription. The use the staff profiles is in conjunction with automated software programs called robots aka bots. These software programs are used to send male members with a free account automated email messages and instant messages. Email messages seem to be coming from real women to the untrained eye however if you understand how some of these dating sites work it is automated software bots at work.
This site tells everyone that they do use and send out templated messages. A templated message is a message sent out that is a similar or exact email used over and over to the users who join their dating site.
Quick tip: If you want you can help us out! You can do your own investigative work by joining the site and making sure to leave your profile page void of any information or photographs. Then, if you could leave a comment below as to the results that you experienced with this site. Just a heads up you're most likely going to receive a steady stream of messages from interested women but these are not real women they are the automated bots at work. Doing this exercise will prove to yourself how deceptive this site is.
The bottom line that we are trying to convey is that it doesn't matter what you look like, or how old you are or where you located because you will still receive a large stream of instant messages and emails because the automated bots are not thinking humans. These bots perform automated tasks and they are just doing their task which is to send you emails and instant messages. The amount of people that fall for these automated bots is staggering and that's the main reason that these type of websites can thrive (even with verry little real women) and make an absolute killing deceiving people into paying a monthly subscription fees to chat and email bots.
Taken from the terms page section 2.2:
"To boost interaction between our members and in order to notify them of newly registered matches and any activity of that new user (i.e. registration, photo upload etc.) we may, from time to time, use an automatic pop up notification system and other communication channels e.g. inbox or instant messages to send Activity Alerts to you. Activity Alerts will be marked in your inbox with a specific icon, and some auto generated Activity Alerts may require an upgraded Paid Membership in order to see the content of message and reply to it. You may unsubscribe from receiving Activity Alerts, or you may refine the types of Activity Alerts you receive, through your account settings under the menu for "Messages (including Activity Alerts)". All users accept and understand that in order to boost their profile amongst users, such alerts about their registration and account update activity (such as new photos) may be broadcast by us, on that user's behalf, and users consent to such distribution amongst members automatically by our system, from time to time. A user may choose to send a Flirtcast message to other users, which may be a template Flirtcast with pre-composed text, or may be a custom message edited by the sending user…"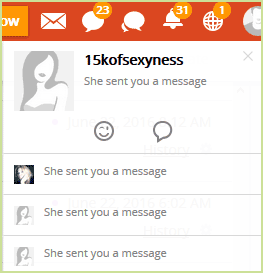 23 automated email messages sent to us.
Your Profile Is Used On Every Site That This Dating Nework Owns:



You should also be aware that the profile that you create for Flirtydesires.com is used on all of the other dating sites own by this network. The list includes Loveaholics.com, Iwantu.com, Quickflirt.com, Naughtydate.com, Upforit.com and Iamnaughty.com. If you're ok with your profile appearing on numerous other sites then you're fine but if you want to control where your profile appears you might want to contact Flirtydesires.com and figure out how to stop this.
Taken from the terms page section 2.2:
"We want to offer you a full range of products and services and in order to do that we will share your details across our Partner Sites (see our privacy policy – Creation of Duplicate Profiles Across Our Partner Sites) and we will market our different products and services to you. You authorise us to reproduce and broadcast the information contained in your profile including your name, photograph, "chat up line", description etc. throughout all or part of our Partner Sites and our Group Companies for the purposes of delivering the Services to you and for marketing and other purposes as explained in more detail below under section 6(B) Our rights to use your content for our own purposes."

How To Contact The Site:
By Phone: 1-800-489-6091
By Email:

[email protected]

By Web Site: Flirtydesires.com/site/contactUs
By Address: P.O. Box 146, Trident Chambers, VG1110, Road Town, Tortola, British Virgin Islands
Vincenti Buildings, 28/19, (Suite No. 1374), Strait Street, VLT 1432, Valletta, Malta

How To Cancel Your Flirtydesires.com Trial & Monthly Membership:
If you want to cancel your paid trial or monthly subscription you can use the various methods that we have listed below to do so.
Cancel By Email:

[email protected]

Cancel By Phone: 1-800-489-6091
Cancel By Mail: P.O. Box 146, Trident Chambers, VG1110, Road Town, Tortola, British Virgin Islands
Domain Registrant Info:

Other Sites On Same IP Servers:
None
Traffic Info:

Unique Daily Visitors: 143,333
Unique Monthly Visitors: 4,300,000
(traffic statistics from January 2016 to April 2016)

The Judgment:

Flirtydesires.com has been created by a dating network with a long list of sites that use all forms of sneaky techniques to manipulate and trick web users into upgrading. In the terms and conditions of Flirtydesires.com they are not as revealing about their misleading marketing tactics like they were on other websites such as Loveaholics.com and Quickflirt.com. Their newer dating sites like Flirtydesires.com seem to change the terms and conditions to hide various techniques they are using and for good reason. Many of the techniques they are using are fraudulent, deceptive and possibly illegal in nature. We ourselves will not be visiting this website again. And we do not plan to purchase a paid membership since we know the true nature of how this site operates.
Find Legitimate Women Here:
If you want to find real women on genuine dating sites go here.

File Consumer Complaints & Report Abuse: