Freehookupaffair.com Isn't Free At All, It's Just A Scam That Bills Your Credit Card



Site Reviewed:
Freehookupaffair.com
Summary Of The Scam:
"Free Membership" That Isn't Free At All

"Age Verification" Con Asks For Your Credit Card

You Credit Card Is Billed With Monthly Memberships To Pornography Websites
"Free Membership" That Isn't Free At All:

.

A "free" membership that isn't free at all! When we signed up for a free membership on Freehookupaffair.com a secondary page popped up mentioning that there is a free lifetime membership and it includes no hidden fees and a bunch of other free stuff. But this is all a facade it's not real, and it's a blatant lie. There is absolutely nothing free about free hookup affair.com. you can't not even view the members area unless you give up your credit card information. So what exactly is free about Freehookupaffair.com? Nothing! Absolutely nothing! "Free" is a good buzzword it gets people looking and when they see the word free they're much more open to whatever they're going to shove down your throat. But in this particular situation all they really want is you to type out your credit card numbers on the screen. Nothing is free, it's a well orchestrated scam.
"Age Verification" Con Asks For Your Credit Card:



On the same page they're asking for our credit card for "age verification" because we need to verify we're over 18 years of age to gain access to the site, fair enough. But, in reality this is all a massive scam. Asking for your credit card information and saying there's no charge simply isn't true. And all the information you need to prove this is located on that same page. Even though they use the word free 11 times on that page it's not free. You can write it a thousand times and it's still not going to be free and you know why? It's because they bill your damn credit card! They charge you even though they wrote FREE 11 times on that page. Common sense should tell you if something is free then why is it that they want your credit card number? Does that sound like it's free to you? It's not free and unfortunately gullible people will fall for this garbage.
You Credit Card Is Billed With Monthly Memberships To Pornography Websites:



What is it that you get charged on your credit card statement if isn't free? The real shocker here is that not only are you getting charged for a membership on Free Hookup Affair which ends up costing you $39.95 a month. On top of those fraudulent charges you get charged to pornography websites. And take note that these are without your consent! I'm sure you never consented to being charged to pornography websites. Unfortunately that's exactly what's going on here without your knowledge. You are getting charged from a pornography site called EroticDVDsonline.com billing you $49.95 per month and another adult site called XXXHDVault.com which charges you $29.95 per month. All three of these charges bill your credit card every single month until you cancel them well in excess of $100 every 30 days.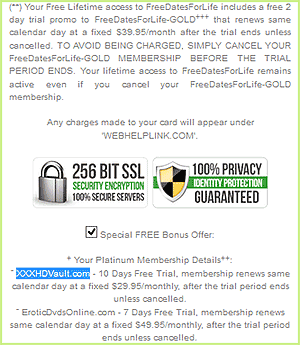 Quick Tip:
Were you a victim of Freehookupaffair.com? Did you blindly give them your credit card information and end up getting charged? Luckily you can resolve this by calling your bank and telling them you were scammed. You can fight back and get your money back. Do what's right and fight for the truth and fight for your own money that you worked hard for. Contact your bank and your credit card company and they will help you and return the funds to your account.

How To Contact The Site:
By Phone: 1-877-283-5293
Address: Nautell Capital ltd, 12-14 Kennedy Avenue, 1st Floor, office 107, P.C. 1087, Nicosia, Cyprus
By Email:

[email protected]

How To Cancel Your Freehookupaffair.com Trial & Monthly Membership:
If you want to cancel your account on Free Hookup Affair you can you use the following information below. We have provided you with the email, phone number and web address to cancel any memberships on this site. Also contact your bank to reverse any fraudulent charges from these criminals.
Domain Registrant Info:
Registrant Name:
Registered: on April 13, 2015
Hosting Company: Key Information Systems, Inc.
Hosting Location: 300 Boulevard East Suite 100 Weehawken NJ
Ip address: 68.169.89.71
Name servers: NS.ISPRIME.COM, NS2.ISPRIME.COM
Registrant Email:

[email protected]

Registrant Phone: +1.4806242599

Other Sites On Same IP Servers:
Traffic Info:

Unique Daily Visitors: 308,333
Unique Monthly Visitors: 9,250,000
(traffic statistics from April 2016 to September 2016)

The Judgment:

One of the most blatant rip-off in the dating industry is Freehookupaffair.com. Unlike other dating services (even when they are scams) give you free access to their members area to try and persuade you into purchasing a paid membership. That's absolutely not the case with Freehookupaffair.com which tries to fraudulently charge your credit card 3 times without giving you any proof that they even run a dating service. You don't get access to any members area, you don't get to view any profiles, you don't get to see email messages from any other members or anything!. All they want is your card info.
Find Legitimate Women Here:
If you want to find real women on genuine dating sites go here.

File Consumer Complaints & Report Abuse: