Fuckbook.com Has Partnered With Danielle-Hickox.us To Spam Us

Site Reviewed:
Danielle-Hickox.us is a spam site that is run by the exact same people behind Jodi-Swofford.biz. In this particular case this site is partnered with a dating site called Fuckbook.com.

Evidence:
Junk Email: Below is the spam email received.
Email address:

[email protected]

Subject of email:

Hi, it's Danielle! I'm back from Bali! Check out my NEW PHOTOS!

Headers:

by mailserver.localhost.com id hr9j0s1613gp
Hey Hon! How's it going?
"I've just came back from Bali with my sister!
And I have some naughty photos for you… 😉

Send me a message to decide when we can meet… 😉
You can find me on my homepage: <http://www.danielle-hickox.us/?p=c2hhbmV6Ym9keXNob3BAZ21haWwuY29t uses url redirection to go to https://www.fuckbook.com/?af=76>"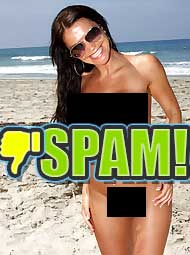 ---
Registrant: John Baulk
Registered on July 30, 2014.
Hosted at H-2040 Budaors, Puskas Tivadar U. 8-10 Hungary
Ip address: 195.184.9.54
Name servers: NS1.YDAYSWINE.COM, NS2.YDAYSWINE.COM, NS1.YALLOTTRAITS.COM, NS2.YALLOTTRAITS.COM
Registrant Email: [email protected]
Registrant Phone: +507.8365503

Known Sites On Same Servers:
fwarnf.us

marie-pascarella.us

adrienne-chill.us

deborah-lamarre.us

Places To Report Spam: