HeartsOfTwo.com Has Partnered With www.LocalEasyChicks.co To Spam People

Site Reviewed:
www.LocalEasyChicks.co, Hotspicyteens.co and Datehotsingles.co are being used to spam people on FaceBook.com. The spam is done through FaceBook pages that have been created solely for the reason of spamming guys looking to meet women. All 3 sites use URL redirection to send people to HeartsOfTwo.com. If you got spammed on FaceBook by these people and want to report it, find the links below.

Evidence:
Spam Post: Below is the spam post we received on our FaceBook account.
FaceBook Page:

https://www.facebook.com/pages/Fantastic-WOMAN/1599001816993270

Spam Sites

: LocalEasyChicks.co
Free to join and search through millions of the hungriest SEX freaks worldwide !!
REGISTER HERE •••> <http://www.hotspicyteens.co/. uses url redirection to go to http://www.heartsoftwo.com/?afid=17404>====> http://bit.ly/1snX54f
REGISTER HERE •••> <http://www.LocalEasyChicks.co/ uses url redirection to go to http://www.heartsoftwo.com/?afid=17404>http://www.localeasychicks.co/ => http://bit.ly/1sHWxVz
REGISTER HERE •••> <http://www.datehotsingles.co/ uses url redirection to go to http://www.heartsoftwo.com/?afid=17404>http://www.localeasychicks.co/ => http://bit.ly/1ygRVW4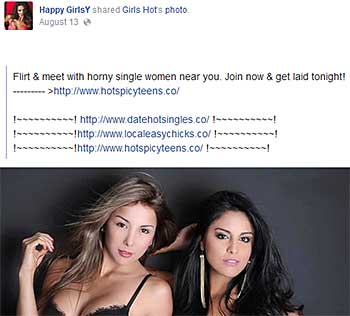 ---
Registrant: Alexander Daskalov
Registered on January 2, 2014.
Hosted at 270 Lafayette St, Suite 1206, New York, NY, 10012, US
Ip address: 192.241.181.65
Name servers: NS1.FRANKTRAX.NET, NS2.FRANKTRAX.NET
Registrant Email: [email protected]
Registrant Phone: +359.883484685

Other Sites On Same IP Servers:
xxxsexgirls.net, getadatetonight.net , easyhookup.me, xxxdatingfree.me, slutsgonewild.org, franktrax.net, just-hook-ups.u

Places To Report Spam: