How To Cancel Your Fuckswipe.com (Free Or Paid) Membership & Delete Your Profile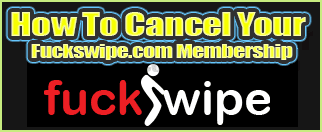 Fuckswipe.com has been on our radar for a very long time and we have already pin pointed them as a fraud and a farce. We exposed them for all sorts of scams like phony concocted emails, instant messages and fake profiles. If you want to truly understand what Fuckswipe.com really is about at it's core read our review. Did you end up purchasing a monthly membership only to never meet any women for a date? Did you get tons of email messages? In the end you probably realized that it was all a scam. Now you can cancel your membership and stop wasting money for nothing.
Here is the step by step cancellation process to delete your member account and also how to cancel your monthly membership. While researching how to cancel our account for this tutorial we found no way to do it! They actually won't let you delete your profile, they only let you hide it. So we came up with the best idea we could and that is to hide our profile page so no other members can find it. On top of that we also deleted the pictures we uploaded to our profile. And, we changed our personal data in our profile such as age, city, zip code and country so if anyone was to look for our profile it would be completely different (so they can't find our profile). The instructions to cancel are ready for you to use.
How To Delete Your Fuckswipe.com Account / Profile



Login to your account on Fuckswipe.com.
Click on 'Account Settings' on the top of the web page.
Scroll to the bottom of the page to "privacy settings" and click on the "hide from other members".
The click "update my settings".
This will hide your account so other members can't find you.
How To Cancel Your Paid Membership / Subscription



Go to Paysarea.com
How To Contact Fuckswipe Support



To get a hold of customer support you can email them or call them through the information available here : [email protected] or you can call support at 1-866-415-4303 . If you need to send them documents their address is Nautell Capital Ltd, 12-14 Kennedy Avenue, 1st Floor, office 107, P.C. 1087, Nicosia, Cyprus.
Find Legitimate Women Here:
If you want to find real women on genuine dating sites go here.