How To Cancel Your Meetbangnow.com Membership & Delete Your Profile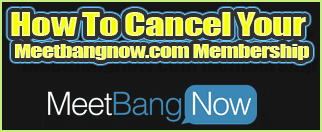 This tutorial shows you exactly how to cancel your account and delete your member profile on Meetbang now.com. A few months ago we did a very detailed review of Meetbangnow.com. Through our review we determined this website was utilizing fake profiles and other methods to scam people. If you purchased a free paid membership then you want to take extra caution to cancel your account immediately because you are being charged an automatic rebilling fee every single month. Depending on what package you purchased from them that can add up to hundreds of dollars per month.
How To Delete Your Meetbangnow.com Account / Profile



Unfortunately Meetbangnow.com doesn't actually let you delete your profile from their website. It took us a lot of time to find out this information. They only offer you the ability to hide your profile so it's not visible to other members who log on to the dating site. We were hoping for a solution that would delete our profile but that's just not the case. We however came up with our own solution and that is to completely wipe clean your dating profile, deleting all photographs you have uploaded to your profile page. You can also change your personal information such as age, location, and any other personal information that would identify you. This will make your profile essentially deleted from their system because it does not reflect who you are. In order to make your profile invisible please follow the instructions below.
Login to Meetbangnow.com
At the top right hand corner the Meetbangnow site click on the grey colored 'Account Settings' button.
At the bottom of the page there are three options. You need to click on 'Suspend So It Is Invisible To Other Members' link.
Click the "Update my Account" link.
How To Cancel Your Paid Membership / Subscription



If you purchased a paid monthly subscription then you need to visit the link below and you can also contact the support staff of Meet Bang Now by email or the phone number that they supplied on their website.
Visit Inteltoll.com
How To Contact Meetbangnow



If you need to reach Meetbangnow.com support then you can emailcustomer service at: [email protected]tbangnow.com or call them at 1-877-941-0864.
Find Legitimate Women Here:
If you want to find real women on genuine dating sites go here.