How To Cancel Your Snapsext.com Membership & Delete Your Profile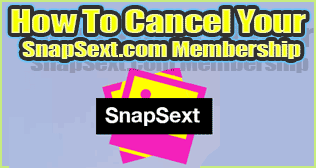 Ready to cancel your account on SnapSext.com? This step by step tutorial will explain the process to delete your profile and also cancel you paid membership to the site. If you want to read our review of Snap Sext go here or else just follow the instructions below.
A few things you need to know about their paid membership packages. If you bought a trial subscription on Snap Sext it will renew at $39.95 per month. A one-month membership will renew monthly at $34.95 If you bought a six-month membership it will be rebilled every month at $29.95. The 18 month membership renews at $14.95 monthly. You need to cancel you paid membership 24 hours or longer before your renewal date or you will get charged for the next month.
How To Delete Your SnapSext.com Account / Profile



Login to SnapSext.com
Click On Your Profile Photo Or Grey Logo to the located on the top right of the navigation bar.
Then a drop down menu will appear, click on Account Settings.
Click the check box right next to "Make My Profile Inactive". This will hide your profile from other members on the site but it will not cancel it unfortunately. They don't offer an option to delete your member profile from the site. You can awasy try to email them

[email protected]

and ask if there is a way to delete your member profile completely.
How To Cancel Your Paid Membership / Subscription For Credit Card Payments



If you purchased a paid membership there are many options to cancel based on how you paid. We have listed all the options to terminate your membership according to how you paid.
If You Bought A Subscription Through CBill.com:
If You Bought A Subscription Through SegPay.com:
If You Bought A Subscription Through Epoch.com:
If You Bought A Subscription With Your Checking Account:
How To Contact Snap Sext



The SnapSext customer support website is Gpnethelp.com. You can also contact them at email at: [email protected]. The customer support phone number is 1-888-824-3640 (toll free in the USA), and if you live outside of the USA call 1-305-712-6612. Their physical address is Address is 12378 SW 82 AVE, Miami, Florida 33156.
Find Legitimate Women Here:
If you want to find real women on genuine dating sites go here.