How To Delete Your Russianbrides.com Profile Account & Cancel Your Membership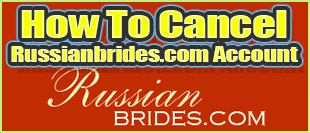 If you're looking at how to delete your profile or cancel your membership on the Russianbrides.com website we have the information available for you. On top of that information we show you how to unsubscribe and cancel your paid membership through PayPal. We also show you to cancel your subscription from the RussianBrides app, if you use your Android phone or your iPhone. And lastly how to unsubscribe from email messages you're receiving from women on Russian Brides.
How To Delete Your Profile



Email them at

[email protected]

.
Or call them toll free at 1 (800) 480-8077.
How To Cancel Your Russianbrides.com Membership



Follow the instructions below to cancel your membership
You can call them at 1(800) 356-3130 to cancel your paid account.
You can also contact their customer support at

[email protected]

to stop your monthly subscription.
How To Cancel Your Subscription If You Paid Using PayPal



Call PayPal customer support at 1 (888) 221-1161 or 1-402-935-2050 (if you live outside the U.S.A). PayPal hours are Monday – Friday 5:00 AM to 10:00 PM PT and Saturday – Sunday 6:00 AM to 8:00 PM PT.
You can follow the instructions on this page to cancel your PayPal subscription.
Cancel Subscription On Your Android Smart Phone



Open Google Play Store app.
Touch Menu
then My Apps
Then Subscriptions
Then tap on the Russianbrides Date app of the subscription you'd like to cancel.
Tap "Cancel" and "Yes" to confirm the cancellation of the app on your Android phone.
Cancel Subscription On Your iPhone



Go to Settings, then iTunes & App Store on your iPhone.
Tap your Apple ID which is located at the top of your screen.
Then Tap View Apple ID.
Next Tap Subscriptions.
Tap the membership.
Use the options to cancel your monthly membership to the Russian Brides app.
How To Unsubscribe From Email Messages



To unsubscribe from email messages all you need to do is go into your email inbox and scroll to the bottom of any Russianbrides.com email and they have instructions that tell you how to unsubscribe from notifications by clicking on a specific link that has the bottom of every single email sent to you from them. You can also email their support staff at [email protected] to stop subscription.
How To Contact Their Customer Service



Call customer service at 1(800) 356-3130. Email their support staff [email protected], [email protected], [email protected]. Their physical address is 103, Agape office 1, Triq Gharram, Zebbug ZBG 2851.
Find Legitimate Women Here:



If you want to find real women on real dating sites go here.