InstaShag.com Review – A Scam That Charges Your Credit Card With Porn Charges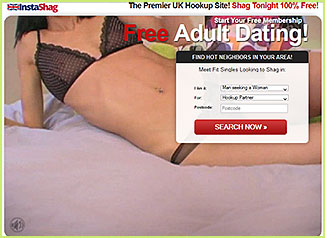 Site Reviewed:
Instashag.com
Summary Of The Scam:
Free Adult Dating That Actually Requires A Credit Card?
The Site Was Voted #1 Dating Site For 2014
Illegitimate Profiles
Fake Video Chat Messages
Emails That Are Computer Generated
Phony Chat Messages

Evidence:
Free Lifetime Memberships That Aren't Free:
If any site asks for your credit card info be careful, especially when they claim the site is 100% free. There is absolutely no legitimate reason to verify you are over 18 with a credit card. It is all a scam to get your credit card info so they can start billing you every month. And those charges add up to $118.43 every month until you cancel! You get monthly charges from 3 adult sites for something that was supposedly for "age verification". This should be your first clue that this dating service is going to be a huge con.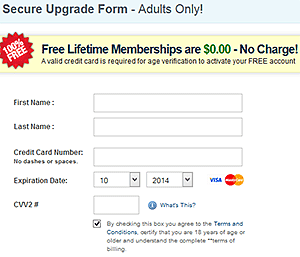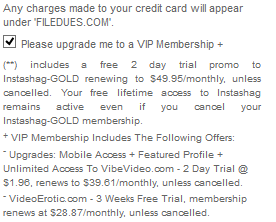 This Site Was Voted The #1 Dating Site For 2014? This site was voted the number 1 dating site for 2014, but who actually voted to make it the number one dating site? The "voted #1 site" icon on the front page is used to build trust with people, but it's completely fake. it's just something they claim is true when in fact it is completely false. Please don't believe it is the number 1 dating site because it isn't.
Illegitimate Profiles: This dating service is bursting at the seem with phony girls. A quick search on Instashag.com easily identified countless profiles that are created by the site. The girls shown below are all fake. Almost every girl on this service in illegitimate. A large majority of these women are either cam girls or amateur porn models. The images have been copied from other sites and then used to create dating profiles on Instashag.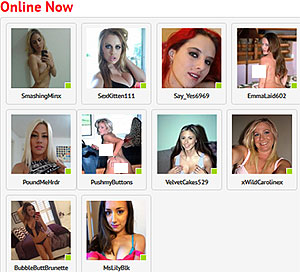 Fake Video Chat Messages: All the video chat messages on this site are 100% fake! If you look at the chat videos they are all videos that loops over and over. No girl is actually live chatting with you on her web cam. It's just a deception to get you to upgrade and buy a monthly subscription.
Phony Chat Messages: The same as the video messages, the chat messages are all fake. Any messages you receive are computer generated messages meaning no females are sending you those messages.
Emails That Are Computer Generated: Every single email we received was a fake girl and not sent to us by any real individuals. All the girls sending emails are called "Love Stars" aka fake women. Trying to reply to the emails is not allowed unless you buy a membership and that's why they send people fake computer generated fake emails.
Find Legitimate Women Here:
If you want to find real women on genuine dating sites go here.

How To Contact The Site:

The Judgment:
Instashag.com is an absolute scam.