Is Wildbuddies.com Really Trying To Swindle People Utilizing Fake Staff Created Profiles?



Site Reviewed:
Wildbuddies.com:
Summary Of The Scam:
Messages Pop Up Immediately After We Registered On The Site

A Site Full Of Attractive Women But Few Of Them Are Real
Messages Pop Up Immediately After We Registered On The Site:



The female members on this site wasted no time in contacting us. Within a few seconds we already started receiving a bunch of messages. If it wasn't all fake we would be ecstatic. But unfortunately all the email messages we are receiving are 100% automated. There are absolutely no real women sending us messages. We're willing to bet that thousands of men who register on the site think they're going to get laid the same day they sign up, just from the sheer amount of messages they are receiving. Solely they are mistaken and the big dark secret is that almost every girl on Wildbuddies.com is fake! All the email correspondence sent to their free members is all automated and used as a marketing tool in an effort to push people in the direction of buying a paid subscription to the site.
Taken from the terms page section 1:
We may, from time to time, create profiles which are created, maintained and managed by our employees ("Staff Profiles"). The purpose of these Staff Profiles is to enable us to ensure our Services are operating properly by testing the Services, features and functionalities, and to research our products and Services. All Staff Profiles will be identifiable as such and in the event that you opt to communicate or interact with a Staff Profile you will be made aware of the nature of this Staff Profile. Staff Profiles will not interact with users in any way and exist for the sole function of allowing us to test our website on a real time, live environment. You expressly acknowledge that you are aware of the existence of Staff Profiles for testing purposes and you agree not to contact a Staff Profile in any way. "
A Site Full Of Attractive Women But Few Of Them Are Real:



It's true that this site does have lots of attractive looking girls. However a large majority of the female profiles found on Wildbuddies.com are embellished, staff created profiles. We used the search tool called Google images where you can upload your own images to Google search. From there the Google search software program can detect were the exact same image that you just uploaded is across the internet. This is a great tool to identify if the female profiles on the site are also located on other websites. Not surprisingly we found many female profiles on other sites including adult photo sites, and social networks. This just verifies our suspicions that Wild Buddies is fabricating profiles of the fake women.
You can take a look for yourself as we have included screenshots of the images located on the other sites. This just proves the images for the sham profiles are being taken from other websites and then used to create a fake personas of certain women on the site.


Original image found on Wildbuddies.com


The exact same photo was located on Jenny-reid.crocogirls.com. Jenny Reid is actually an amateur porn star.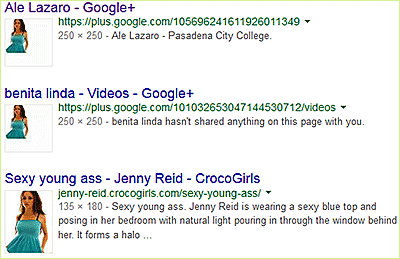 More proof that this particular Wild Buddies profile photo was copied from other sources.
All Their Tricks Have One Goal In Mind, Getting You To Upgrade:



We've come to the conclusion that everything they do is for one reason and that is to get their free members to upgrade to paid subscriptions. This is their ultimate goal and all the fake profiles and all the automated messages sent to you are done for that specific reason. The world runs on money and the people that run this site have no qualms about lying, cheating and deceiving you in order to make that money. They don't care if they break laws, or steal photographs of adult porn stars. They want to make money off of you and they will do anything they can think of to make that happen. Once we realized this then we knew this site was completely worthless. We have everything going against us since we have no way to determine which profiles are real and which ones are fake on this site. If there is no honesty then there is no reason for us to continue using this service.
You Agree To Compensate The Site For Violations From Your Member Account:



Did you know this website holds you accountable in financially compensating any employees, directors and companies associated with Wildbuddies.com for claims that are caused resulting because of costs and expenses and even legal fees as a result of your actions with your profile on this site. They want to be compensated financially as a result of any problems they have with your profile. How unbelievable is that when this website is involved in so many fraudulent activities!
Taken from the terms page:
"You agree to indemnify us, our officers, directors, employees, agents, Group Companies and third parties for any claims, causes of action, debts, losses, costs, liabilities and expenses (including reasonable legal fees) relating to or arising, directly or indirectly, out of: (i) your, on anyone using your account's use of or inability to use the Services, (ii) any content or information posted by you or anyone using your account, (iii) your or anyone using your account's violation of these terms of use or your or anyone using your account's violation of any rights of a third party, or (iv) your or anyone using your account's violation of any applicable laws, rules or regulations.
We reserve the right, at our own cost, to assume the exclusive defense and control of any matter otherwise subject to indemnification by you. You agree to provide us with full co-operation if we choose to exercise this right."
Automatic Monthly Charges To Your Credit Card:



You better watch out if you have foolishly given this website your credit card details. This website runs on a recurring billing system that enables them to charge your credit card on a regular basis for membership fees). Recurring billing means that your credit card will be charged every month until you cancel the charges and your membership. Many people sign up to these dating sites and forget all about them not realizing that it's a recurring system. They don't know what hit them until they see their credit card statement. so please be careful.
Taken from the terms page:
We operate an automatic renewal billing policy.
This means that once your initial membership period has expired, for your convenience, your membership will automatically be renewed at the same rate that you signed up for using the original payment method. For example if you pay by credit card, we will continue to debit this same credit card as each subscription period expires. We will only debit these repeat payments when your current payment period expires and not before."

How To Contact The Site:
By Phone:

1-800-489-6091 or 1-212-796-5746
By Email:

[email protected]

By Web Site: Wildbuddies.com/site/contactUs
By Address: P.O. Box 146, Trident Chambers, VG1110, Road Town, Tortola, British Virgin Islands
Vincenti Buildings, 28/19, (Suite No. 1374), Strait Street, VLT 1432, Valletta, Malta

How To Cancel Your Trial & Monthly Membership:
If you want to cancel your paid trial or monthly subscription to this site you can use the various methods that we have listed below to do so.
Cancel By Email:

[email protected]

Cancel By Phone: 1-800-489-6091
Cancel By Mail: P.O. Box 146, Trident Chambers, VG1110, Road Town, Tortola, British Virgin Islands
Domain Registrant Info:
Registrant Name: Bill Dobbie
Registered: on April 27, 2002
Hosting Company: Peer 1 Network
Hosting Location: 75 Broad Street, 2Nd Floor, New York, NY, 10004, US
Ip address: 70.33.212.43
Name servers: ns1.p03.dynect.net, ns2.p03.dynect.net, ns3.p03.dynect.net, ns4.p03.dynect.net
Registrant Email:

[email protected]

Registrant Phone: 44.1312201313

Other Sites On Same IP Servers:
None
Traffic Info:
Unique Daily Visitors: 10,333
Unique Monthly Visitors: 310,000


(traffic statistics from December 2014 to May 2015)

The Judgment:

All the documentation and evidence that we have provided proves this site is a sham.
Find Legitimate Women Here:
If you want to find real women on genuine dating sites go here.

File Consumer Complaints & Report Abuse: