Localbooty.com Review – Why Does This Site Have Make Believe Women



Site Reviewed:
Localbooty.com:
Summary Of The Scam:
This Site Uses "Online Flirts" (Fake Profiles)

Automated Computer Software Scripts Used To Send Fake Emails

People Paid Money To Pretend To Be Members
This Site Uses "Online Flirts" That Are Fake Female Member Profiles:



What exactly is an "Online Flirt" and why do they use them? First off "Online Flirts" are fake female profiles. These profiles are designed and managed by the dating service. Using images that the site has scraped off the internet (or bought from an image provider) they use these images of attractive looking woman to create fictitious profiles that they have termed "Online Flirts". These profiles look real, there is nothing to identify them as a fake dating profile. Everything that is normally in a regular member profile is also an "Online Flirt" profile, there is no difference. Probably the only difference is that every single "Online Flirt" is attractive while in the general population there is a mix of people.
The reason this site creates fake profiles ("Online Flirts") is because if you were to count the amount of real legitimate women on the site compared to male members you would be in shock. We would have to estimate the number of real males to real females would be 95% males to 5% females, if that. This puts the dating service in a problematic area. What do they do, since there are not nearly enough females to fill the gap of men registering on the site? Some unscrupulous dating site years ago had an idea to create fake profiles. Since that time hundreds of fake dating sites have come along using this fraudulent concept to fill their sham dating sites with fictitious profiles of females. This is an astounding problem and is the largest fraud in the online dating industry, next to Nigerian romance scammers.
Taken from the terms page:
"THIS SITE USES FANTASY PROFILES CALLED "ONLINE FLIRT®" In order to enhance your amusement experience, to stimulate you and others to use our Services more extensively, and to generally sprinkle some sparkle and excitement into the Services of LOCALBOOTY.COM, we may post fictitious profiles."
Automated Computer Software Programs Created To Send Fake Emails To Male Members:



Why does the site use computer software programs created to send out automatic fake email messages to their male members? This goes along in conjunction with the make believe women found all over the site. First they create a fake female profile then they use computer software programs to send email messages and other forms of communications to male members who have a free account on their service. When the guy tries to respond back to any emails or communications they have received they are then asked to buy a monthly subscription package to the service. The emails look real, especially if you have no experience with online dating scams. This makes it almost impossible for regular web users to identify potential scam beforehand. Probably the best way to identify a potential fraud is to check if you're receiving the same emails from different women on the site. This is one indicator, and the easiest way to identify scams before you pay your membership. Once you purchase a membership you will not be able to retrieve the amount lost.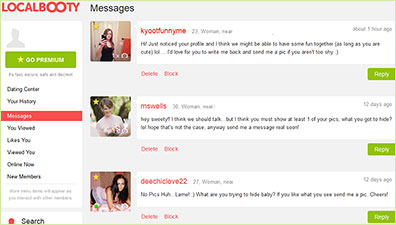 (Emails received most likely from "Online Flirts". We needed to upgrade to send any emails that were sent to us. This is how they con people into buying a membership.)
Taken from the terms page:
"we may generate or respond to communications by means of automated programs or scripts that simulate or attempt to simulate your intercommunication with another real human being (though none really exists and any dialog is generated by programming)"
People Paid Money To Pretend To Be Female Members Of The Site:



Why does LocalBooty.com have people working for them that are paid to pretend to be female members of the site? This is probably one of the trickiest deceptions that this site uses. Fake females, and fake emails are easier to identify. But, when you start receiving emails from a real person then it's much more difficult to identify the con. Employees who are paid to interact with you make it truly difficult to identify that you're being duped before it's too late. Just know, that you can never ever meet these people in person because they are not on the site looking to meet anyone, they are just doing their daily duties at their job of employment.
Taken from the terms page:
"we may employ or contract for the paid services of real persons who may interact with you as part of their compensated employment."
You Cannot File A Lawsuit Or Claim Damages Against Them For The Tricks They Use:

.

Did you know that in the terms and conditions they have a section that is used that will protect them in the court of law if you try to file any type of law suit or claim financial damages against them for the false, misleading or deceptive tricks that they pull on you. This includes the use of sham personal profiles, instant chat messages, email messages and other forms of communications they use as part of their "Online Flirt" program.
They have no problem deceiving, and scamming people however if you try to file any judgments against them for the illegal tactics they use on you then you cannot do that according to their terms and conditions (section i7). This is quite astounding. We're not sure if this will hold up in a court of law but merely the fact that they have the audacity to put this in their terms and conditions is truly disgusting.
Taken from the terms page:
"Without prejudice to or limitation of any of the foregoing or any other term or provision of this Agreement, you hereby unconditionally release us and our owners, operators, officers, directors, employees, agents, subsidiaries, successors, attorneys, contractors, and assigns, and all other persons from any and all claims, demands and damages (actual and consequential) of every kind and nature, known and unknown, suspected and unsuspected, disclosed and undisclosed, incurred and alleged to be incurred, by any of them in connection with any
false, misleading, or deceptive statement contained in any personal profile, post, rating, evaluation, comment, instant chat, email, or communication through the use of our Services, whether originated by us, another Member, any user of our Services, or any other person, and
false, misleading, or deceptive appearance, suggestion or implication of the authorship, origin, sincerity, motivation or intent of any personal profile, post, rating, evaluation, comment, instant chat, email, or communication published or transmitted through the use of our Services, whether actually originated by us, another Member, any user of our Services, or any other person."

How To Contact The Site:
By Phone:

(888) 523-2327)
By Email:

[email protected]

By Web Site:
By Address: Suite 102 Envoy House, La Vrangue, St Peter Port, Guernsey GY13EN
19C Trolley Sq, Wilmington, DE, 19806, USA

How To Cancel Your Trial & Monthly Membership:
If you want to cancel your paid trial or monthly subscription to this site you can use the various methods that we have listed below to do so.
Cancel By Email:

[email protected]

om
Cancel On Site:
Cancel By Phone: (888) 523-2327)
Cancel By Mail: none given
Domain Registrant Info:
Registrant Name: Virtual Landscape
Registered: on May 5, 2005
Hosting Company: Amazon.com, Inc
Hosting Location: 19C Trolley Sq Wilmington Delaware 19806 United States
Ip address: 54.76.106.87
Name servers: NS-1094.AWSDNS-08.ORG, NS-1002.AWSDNS-61.NET, NS-1842.AWSDNS-38.CO.UK, NS-176.AWSDNS-22.COM
Registrant Email:

[email protected]

Registrant Phone: 1-425-2740-657

Other Sites On Same IP Servers:
Traffic Info:
Unique Daily Visitors: 16,000
Unique Monthly Visitors: 480,000


The Judgment:

If you want to still sign up to LocalBooty.com do so at your own risk. Everything we have detailed in our evaluation is 100% true. All you need to do is read the terms and conditions of the site and everything is right there for you to verify for yourself. We suggest you look elsewhere if you're still interested in looking for women. Please leave any negative or positive reviews about this site in the comments section.


File Consumer Complaints & Report Abuse: