Megahookup.com Is Partnered With Sorener.com To Send Illegal Spam

Site Reviewed:
Sorener.com is a junk domain being used exclusively to send out illegal spam to people such as us. The email we got was from Amanda Cruzz but in reality it's 3rd party marketing spamming companies that promote Megahookup.com in return for a commission for every new person that signs up on Megahookup.com. The spammers who own Sorener.com are basically criminals breaking the law sending illegal emails to countless people.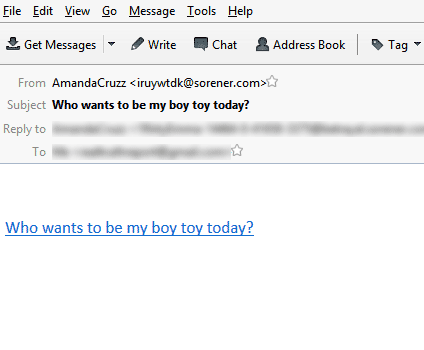 Evidence:
Junk Email: Below is the spam email received.
Email address:

[email protected]

Subject of email:

Who wants to be my boy toy today?

Headers:

from Pickup by betrayal.sorener.com ([181.177.67.221])
Who wants to be my boy toy today? <http://betrayal.sorener.com/track.aspx?dL9XjqzE7W2x19nakRERWEevSPE7PWU0DT+egLuv/uEzYhIhK+E1rQDKqoDzcoc78Av/EMmO6cN= uses url redirection to go to http://www.Megahookup.com/>
7535 Wall Triana Highway
Madison, AL 35757
Please Stop Mailings
---
Registrant: WEB MASTER
Registered on June 2, 2015
Hosted at 25 New Road, 25, – Belize City – Bz, BZ
Ip address: 181.177.67.10
Name servers: ns2.sorener.com, ns3.sorener.com, ns4.sorener.com
Registrant Phone: 1-888-621-4480

Other Sites On Same IP Servers:

Places To Report Spam: