Milfder.com Is Partnered With Spammers That Run www.Doreen-Garett.xyz

Site Reviewed:
Milfder.com is a new dating site for men seeking milf women. Milfder was brought to our attention from a web domain called Doreen-Garett.xyz. We received junk email from these people which you can view in this article. Using something called URL redirection we were directed from Doreen-Garett.xyz to Milfder.com.

Evidence:
Junk Email: Below is the spam email received.
Email address:

[email protected]

Subject of email:

Hi it's Doreen, wanna be my FUCKBUDDY?

Headers:

from mailserver.localhost.com ([212.232.62.130])
Doreen Garett sent you a private message:
I love casual dating, quickies in the park and pool sex 😉
I'm not too picky about guys so just message me and lets have some fun!)
View My Profile Here: http://www.doreen-garett.xyz/ <ttp://www.doreen-garett.xyz/ uses url redirection to go to http://Milfder.com/lander?version=1>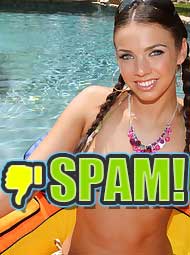 ---
Registrant:
Registered on July 20, 2015
Hosted at S.a, 99 Albert Street, Beliza City, Belize
Ip address: 46.183.216.92
Name servers: NS1.CONTRITIONHO.COM, NS2.CONTRITIONHO.COM, NS1.CROSSESOBLIGED.COM, NS2.CROSSESOBLIGED.COM
Registrant Phone: 507-836-5503

Other Sites On Same IP Servers:
none


Places To Report Spam: