Mixxxer.com / Mixxer App Are A Waste Of Time & Money: A Phony Hookup Site & App Made To Swindle You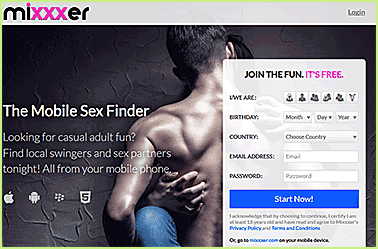 Site Reviewed:
Mixxxer.com / Mixxxer App
Summary Of The Scam:
Fictitious Profiles Called "Mixxxer Entertainers" Operated By The Staff of Mixxer

This is An "Entertainment" Site / App Not A Real Dating Service
Fictitious Profiles Called "Mixxxer Entertainers" Operated By The Staff of Mixxer:



It's like a virus in the online dating industry. The use of fictitious profiles. This is probably the number one problem and the number one tool that dating scammers use to defraud people. This is the first thing that bogus dating sites will do in order to attract male members to their dating service. Bogus profile pages are the lifeline of fake hookup sites. Mixxxer is absolutely no different in this scenario. Why s dating services assume they're completely in the right to build bogus profiles is beyond belief.
In the terms and conditions section of the Mixxxer website they tell us that the fictitious profiles they use are for our entertainment. That's laughable at the least. But it's very frustrating that dating site after dating site claim that they create pretend profiles for the entertainment other users. This is the farthest thing from the truth. The main reason they use bogus profiles is to scam you. You need to understand without pretend profiles there is no Mixxxer. If they were actually to show how many real women join Mixxxer.com then you would be truly shocked. It would be one female for every hundred males. And of course no man would join this site if they saw this to be the case. In the eyes of Mixxer's owners the only conclusion is for them to sway the appearance of their website by building, and utilizing phony profiles all over their website. Something to note is that the profiles are always female and not male. There is always a large amount of men that join hookup sites but females are always less likely to register on adult swinger hookup sites.
The biggest drawback to Mixxxer is that you have no clue who's real and who's not. You would have to assume that almost every female profile has been created by the site. This makes registering and purchasing a membership on Mixxxer useless. Why would anyone want to pay for a site that confesses to using fictitious profiles? It's a complete and utter waste of anyone's time!
Taken from the terms page under Aspects of the Mixxxer Service:
"Mixxxer Entertainers – You acknowledge and agree that some of the profiles posted on the Site are associated with our "Mixxxer Entertainers" and may be fictitious. The purpose of our Mixxxer Entertainers is to provide entertainment, to allow you to explore our Services and to promote greater participation in our Services. You understand and acknowledge that we create the "Mixxxer Entertainers" profiles and those profiles are not based on any user or member of our Service. You acknowledge and agree that the descriptions, pictures and information included in the profiles of our "Mixxxer Entertainers" are not associated with a real person, but are provided primarily for your amusement. "Mixxxer Entertainers" are NOT conspicuously identified as such.
You understand that you cannot meet any of our "Mixxxer Entertainers" in person and you acknowledge and agree that such communications are for your entertainment and to encourage your use of our Service."
You Can't Use False Info In Your Dating Profile BUT They Can:



These people are such hypocrites. It's almost laughable. Somehow they think it's okay for them to create fictitious profiles called "Mixxxer Entertainers" but for some reason they think that if you create an embellished profile that your membership is void and they will cancel your account to their faux dating service. What world are these people (SocialSoft Networks) living in?
How is it completely okay for this pretend dating service to make fictitious profiles? If you lie on your profile, or put a misleading photograph they can ban you and delete your account.
We have a great idea how about if everyone tells the truth. How about if all the profiles of the site are real ,legitimate and truthful! Why is it okay for the dating site to create fictitious profile pages but when a user create a false profile then they can easily be banned? People think lying is no big deal. Lying coming from anyone or any dating site ruins relationships, plays head games with people and destroys confidence. Mixxxer site and their app are both operated by selfish people who could care less about who they hurt. Their own terms and conditions page prove how dirty and shameful they are!
Taken from the terms page under Registering to Use our Service:
"You understand and agree that it is a condition of your use of this Site and the Service and of your membership that all of the information you provide to us when you are signing up and providing your Profile is correct, current, accurate and complete. If you provide any misleading or false information to us, your right to use this Site is invalid and your membership is void."
You Give Up Your Rights To Join A Class Action Lawsuit Against Mixxxer



This was a real doozy! In their own writings they write that we give up all rights to join class action lawsuit against them. What exactly are they worried about? Are they worried that people are going to sue them for the fact that they're fraudulently misleading the public by creating phony dating service using Mixxxer Entertainers?!
How is it okay for them to create bogus profile pages but then if you want to go after them in the court of law then you're not allowed.
Get Your Money Back From These Crooks



If you purchased a membership on Mixxxer.com / Mixxxer App we strongly suggest that you contact your financial institution and your credit card company and try to get your money back. There is no way in hell that these people should be allowed to flourish financially from the crimes that they are perpetrating. Fight back, get your money back and show them that you're not going to lay down while they steal your hard-earned money!
Taken from the terms page under Class Action Waiver.:
"In any dispute, neither you nor any other person shall be entitled to join or consolidate claims by or against other affiliates or persons, or arbitrate any claim as a representative or class action or in a private attorney general capacity.You acknowledge that you are giving up your rights to participate in a class action or representative action with respect to any such claim."

How To Contact The Site:

How To Cancel Your Trial & Monthly Membership:
If you want to cancel your paid trial or monthly subscription to this site you can use the various methods that we have listed below to do so. We also have a full tutorial showing you how to cancel your account on Mixxer.com / Mixxxer App.
Domain Registrant Info:
Registrant Name: Domain Admin
Registered: on August 24, 2015
Hosting Company: Colosseum Online, Inc
Hosting Location: P.O. Box 81226, Seattle, WA, 98108-1226, USA
Ip address: 107.20.201.90
Name servers: NS75.DOMAINCONTROL.COM, NS76.DOMAINCONTROL.COM
Registrant Email:

[email protected]

Registrant Phone: 1.4806242599

Other Sites On Same IP Servers:
Traffic Info:
Unique Daily Visitors: 8,166
Unique Monthly Visitors:

245,000


(traffic statistics from July 2016 to December 2016)

The Judgment:

What's the point in wasting time joining Mixxxer? If you like living in the land of make believe then go for it. But at the end of the day if you really want to meet a couple, a single girl or whatever else you're into then is Mixxxer.com really the right place for you? It's a fantasy world where nothing is real. We won't be using this dating service, what's the point when everything is completely fake. No thanks!!
Find Legitimate Women Here:



If you want to find real women on genuine dating sites go here.

File Consumer Complaints & Report Abuse: