Naughtydate.com Inundates It's Male Members With Fabricated Girls And Phony Emails



Site Reviewed:
Naughtydate.com:
Summary Of The Scam:
Messages From Hot Looking Girls Immediately After We Registered On The Site

"Flirts" Sent From Robots, Not Real People

Fake Member Profiles Run By The Staff Of Naughtydate.com
Messages From Hot Looking Girls Immediately After We Registered On The Site:



When we started receiving email messages in such a short period of time we knew something was up. There is no way that any dating site has that many horny women ready to contact men in under half an hour. How is this possible then? Are these women really that horny and ready to jump on any man they see? The answer is No.
Any email messages we personally receive were all fake. These messages are sent to free members and they are used to trick them into upgrading. So don't get too excited if you start receiving tons of emails from all these hot looking girls. If you think getting messages from hot looking girls is normal then you must look like Brad Pitt. In the real world men chase women, not the other way around. On top of that the girls who ended up contacting us were incredibly beautiful which in itself is very odd. There is no reason that stunning women would be looking for a date so desperately and they definitely wouldn't go out of their way to reach out to people who have a profile that has absolutely no images in it. It makes no sense whatsoever but to conclude that this site is a scam that uses fictitious profiles of women to lure men into signing up to their services.
Unfortunately the emails from the bots seem real if you haven't come across them before. To the untrained dating site user it's hard to to tell by emails if a girl is real or not. One of the best ways to determine if you are communicating with a real person is to ask direct questions that would prove it was a real person. Bots cannot answer questions such as "What is the capitol of the USA" etc. So try that strategy if you think you are getting emails from a bot.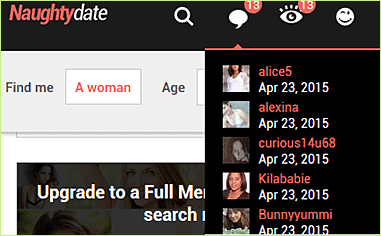 (As of writing this review we have received 13 fake emails messages that we have determined to be fabricated "staff profiles".)
Flirts From Bots:



Also don't get too excited if you find out that women are viewing your profile, sending you winks and sending you flirts, this is all fictitious. No legitimate female members are looking at your profile, sending you flirts and interested in you. It's all a trap perpetrated by the dating site. These sneaky scum bags use software programs to send you fake winks and flirts to deceive you into believing you are popular.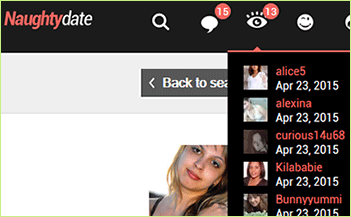 (13 flirts from automated robots disguised as real women.)
Fake Member Profiles Run By The Staff Of Naughtydate.com:



Another disturbing fact is that all the member profiles are run and operated by the staff of Naughtydate.com. Hard to believe isn't it? But if you took the time to read the terms and conditions you would see it right there in front of your face. Why they admit to it is beyond us but they do clearly state that member profiles are run by their staff.
You Give Up Your Right To A Class Action Law Suit:



And don't think now that you know the site is involved in scamming people that you can take legal action against them. According to their terms and conditions since you agreed to using the site you have to abide by their terms and conditions and it states that neither you nor any persons will be entitled to join a consolidated claims against our company. You're basically giving up your right to participate in any form of class action lawsuit against this company. I guess you can go after then individually but apparently you cannot go after them with a class action lawsuit since you agreed to using their site. I have no clue if this is actually actually a law that will stand up in court or not but that's what it states in there terms and conditions (section 10c) on their website.

How To Contact The Site:

How To Cancel Your Trial & Monthly Membership:
If you want to cancel your paid trial or monthly subscription to this site you can use the various methods that we have listed below to do so.
Cancel By Email:

[email protected]

Cancel By Phone: 1-800-489-6091
Cancel By Mail: P.O. Box 146, Trident Chambers, VG1110, Road Town, Tortola, British Virgin Islands
Domain Registrant Info:

Other Sites On Same IP Servers:
SpicyMeetings.com
Traffic Info:
Unique Daily Visitors: 40,000
Unique Monthly Visitors: 1,200,000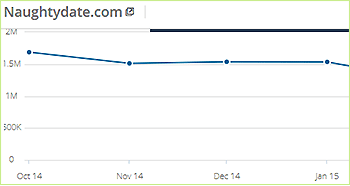 (traffic statistics from October 2014 to January 2015)

The Judgment:

The review speaks for itself there is no way is hell you can find authentic females on this service. And with all the automated instant messages and emails sent to it's users, it's difficult to know who is real and who isn't. The site has very limited legit women and for that reason should be avoided.
Find Legitimate Women Here:
If you want to find real women on genuine dating sites go here.

File Consumer Complaints & Report Abuse: