Onenightfriend.com Utilizes A Multitude Of Tricks To Defraud You



Site Reviewed:
Onenightfriend.com:
Summary Of The Scam:
Fictitious Women Portrayed As Legitimate Members

Fictitious Email Messages

Fictitious "Winks"
Fictitious Women Portrayed As Legitimate Members:



This tactic of fictitious women is used widely with online dating scams including Onenightfriend.com. The operators of Onenightfriend seem to think it's a great idea to manufacture profiles. When we say manufacture, we mean they employ people paid money to actually sit there and make up fictitious profiles. They actually hire people whose job description it is to sit at a desk and make up phony profiles are women. This may sound unbelievable but it is 100% true.
Please understand just because the female members look like real people it doesn't mean that they are. It's very easy to create fake profiles, all you need is photographs and from there you can just fill in the personal information to whatever you want it to be. This is exactly what the staff of this dating service does. It's not rocket science but it definitely does work. It dupes thousands of men into upgrading to purchase subscriptions to Onenightfriend.com.
Fictitious Email Messages:



Did you know that we received 22 email messages in under 45 minutes of registering as a free member of Onenightfriend.com. This is insane! How is this even possible that we have 22 emails in our inbox? Who in their right mind would fall for such a blatant scam? The first thing we need to point out is that when we created our profile on Onenightfriend.com, we made sure to leave our information empty including having zero photographs in the profile. But, still we received 22 emails and counting. Why would so many women be interested in contacting us when they have absolutely no idea as to what our appearance is or any other personal information about us? How can it be that so many horny women are ready to jump on us in 45 minutes? Is this really what's going on? No! This website is all automated. The messages we received were completely automated using some form of software. This software can detect that we have registered as a free member on One Night Friend, the software also knows that we are logged into the members area and with that information they automatically start sending templated, fake email messages to free members.
Fictitious "Winks":



A wink is a way of flirting with someone on Onenightfriend.com. When you send someone a wink by clicking the button this signifies that you are interested in them. So far the profile we are using for this operation has received 9 winks. This signifies that nine women are flirting with us, and are interested in us. But why? Once again the profile we created for this an operation is completely empty. This is another marketing strategy used on free members of Onenightfriend.com. The marketing strategy works like this. You receive winks from interested women then you will try to reply and or communicate to those women who you find attractive. But, you can't communicate with anyone on this site until you purchase a subscription. This is the reason we are receiving "winks". It's a strategy to deceive all free members to buy a subscription to Onenightfriend.com.
You Give Them The Right To Use Your Photos:



It's very important that you read the terms and conditions of any dating site that you plan on using. In the terms and conditions of Onenightfriend.com they reveal quite a few shocking facts. One that really our attention on top of the phony profiles that we have uncovered is that they use your photographs for a variety of different things. You give them the rights to use your photographs for marketing and also placing your photographs royalty-free on their other websites. With your photographs they can do a number of things including creating banner ads to advertise their various dating sites, as well as using your photographs and your profiles throughout their network of dating sites.
If you like being discreet then please understand that your discretion is out the window when using their dating site, since your profile will appear on other sites that you have no knowledge of whatsoever.
Taken from the terms page section 6B:
"You automatically grant, and you represent and warrant that you have the right to grant to us, our Partner Sites and Group Companies, a non-exclusive, royalty free, worldwide license to use, copy, publish, display, reformat, translate and distribute, and broadcast, such information or content and to grant and authorize sub-licenses of the same. You further waive any moral or potential infringements rights you may have in any such information or content. We may further We may assign or sublicense the above license to our affiliates and successors without any further approval by you.
Specifically please note that we may use any of your content, including your photographs, for the purposes of advertising or publicity. If you do not wish us to do this, please contact us."

How To Contact The Site:
By Phone:

1-800-489-6091 or +1 2127965746
By Email:

[email protected]

By Web Site: Onenightfriend.com.com/site/contactUs
By Address: P.O. Box 146, Trident Chambers, VG1110, Road Town, Tortola, British Virgin Islands
Vincenti Buildings, 28/19, (Suite No. 1374), Strait Street, VLT 1432, Valletta, Malta

How To Cancel Your Trial & Monthly Membership:
If you want to cancel your paid trial or monthly subscription to this site you can use the various methods that we have listed below to do so. You can also follow these cancellation instructions to delete your profile and cancel your paid subscription on Onenightfriend.com.
Cancel By Email:

[email protected]

Cancel By Phone: 1-800-489-6091 or +1 2127965746
Cancel By Mail: P.O. Box 146 Trident Chambers, Road Town, VG1110, Tortola, British Virgin Islands;
Domain Registrant Info:
Registrant Name: Vitaliy Didenko
Registered: on October 14, 2014
Hosting Company: Peer 1 Network
Hosting Location: 75 Broad Street, 2Nd Floor, New York, NY, 10004, USA
Hosting Location: Trident Chambers P.O. Box 146, Road Town, Tortola, VG
Ip address: 70.33.212.156
Name servers: ns1.ropot.net, ns2.ropot.net
Registrant Email:

[email protected]

Registrant Phone: +356.25466096

Other Sites On Same IP Servers:
Cherry-love.com, Fuck-with-me.com, Bang-pussy.com, Flirt.com, Naughtydate.com, Loveaholics.com, Benaughty.com, Quickflirt.com, Cheekylovers.com, Naughtyfever.com, Douwant.me, Bang-2night.com, Sex-desire.com, Wildmeets.com, Next-fuck.com
Traffic Info: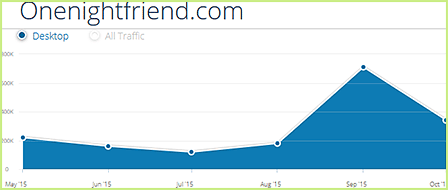 Unique Daily Visitors: 11,333
Unique Monthly Visitors: 340,000
(traffic statistics from May 2015 to October 2015)

The Judgment:

It's very easy to determine this site is running a fraud. You can do your own homework, sign up to Onenightfriend.com and we can promise you that you will see the exact same results as we did. Emails will pour into your inbox, phony winks etc. This site is truly a fraudulent operation.
Find Legitimate Women Here:
If you want to find real women on genuine dating sites go here.

File Consumer Complaints & Report Abuse: