Read This Review & Learn If CheekyDevil.com Is Pulling A Fast One On You



Site Reviewed:
Cheekydevil.com:
Summary Of The Scam:
Questionable Profiles That Are Compltely Fraudulent

Over 146 Emails Most Likely From Bots
Questionable Profiles That Are Compltely Fraudulent:



There is no dating service without dating profiles. And there is no dating site without women. However a dilemma with casual hookup sites like Cheekydevil.com is they do not attract a large amount of women to register and join their dating service. The ratio of men joining casual dating sites compared to women is roughly five men for every female.
Unfortunately this is an issue for the administrators of the site, it's difficult to run a profitable thriving online dating operation when the amount of real females doesn't even come close to the amount of males joining the service. Other sites that we have investigated have gone out of their way to create and fabricate their own fake profile pages. The profile pages they create are always of females never of males. There is a large abundance of men joining these casual sex dating sites but the amount of females is very, very, low. The solution to the problem was very simple make up fictitious female profile pages tricking male users into thinking that sites like Cheekydevil.com are bursting at the seams with horny females. Is that's what's going here? Is Cheeky Devil using illegitimate profiles? Yes, they are. And, the real problem is you can't tell which people are real, and which one have been fabricated by the site.
Note: Cheeky Devil calls they're made up profiles "Angels" and they use those "Angels" to automatically generate and send emails to you. These emails are not real and the profiles attached to the fictitious messages you and everyone else who joins the site receives are 100% concocted by the site. They outline all of this in their terms and conditions page. But they don't want you to read the terms and conditions page they have it there strictly because they know barey anyone will read it. You have to agree to the terms and conditions prior to creating an account on this site so it's your responsibility to read those terms. Unfortunately such a small amount of the people who join these kind of dating sites actually take the time to read the terms and conditions it's very easy for them to defraud thousands of people without any problem.
Taken from the terms page of Cheeky Devil:
"Our so called Angels attempt to simulate communications with real members to encourage more conversation and interaction with users. We also use these Angels to monitor user communications and use of our Service to measure compliance with the Terms. These angels are not intended to resemble or mimic any actual persons."
Over 146 Emails Most Likely From Bots:



So far we have accumulated 146 emails while being a member of Cheekydevil.com, pretty impressive right? It would be impressive if we knew for sure that the emails coming to us are from real people but are they? How do we know for 100% certain that the girls sending us messages are real life breathing human beings? We don't! And that is a big problem. We simply don't trust this site. With our experience doing dating reviews for many years we have developed an eye to identify when something on a dating site is not quite right. That's what we suspect with Cheekydevil.com, something is just not quite right. As of today we have received 146 messages from all types of women. How is this even possible? Why exactly would so many women want to contact our profile? Was it the photograph that we used? Or, was it the description we gave? Do these women know we have a lot of money? No, it's none of the above. In fact the profile we created for this investigation was blank, no profile pictures and no personal information at all. But, miraculously we still had 146 emails! Does this seem normal to you?
Every single time we tried to read or write back to the women sending us messages we were asked to pay an upgraded membership. Perhaps this is why we're receiving so many messages. Cheekydevil.com could very well be using something called automated bots. These are software programming tools created to automatically perform mundane tasks like emailing people. These bots can effortlessly email hundreds of people without any energy. This is most likely what's going on, bots are being designed to email people. A certain percentage of the people receiving emails will most likely upgrade to chat back to the women sending the messages. This is the bread and butter of online dating, membership packages so it's in their interest to get as many possible people to upgrade. The real issue isn't purchasing a membership package but if the women emailing us or legitimate real life humans looking to interact with someone in a real life situation. We can only speculate if Cheekydevil.com is using robotic software to email their male members but this seems like the most likely scenario of why we have received 146 emails.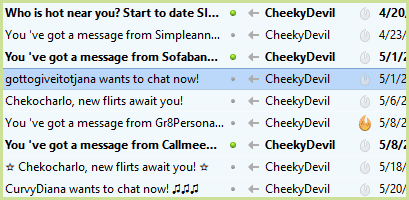 146 automated email messages sent to us.
You Cannot Go After Them If You Want To Sue Them:



If you feel like you have been duped by Cheekydevil.com and you want to go after them legally according to the terms and conditions they will not be liable for loss or any damage. We're not sure if that means also the fact that they're probably using automated robotic software programs and fantasy profiles, but we would think that would be a reason to go after them. If they are using made up profiles then they're not offering the service that you thought you were paying for. If you upgrade you should be able to go after them in the court of law. However on their terms page they stay we will not be liable for any economic losses.
Cheeky Devil Doesn't Want You Doing Anything Fraudulent On Theit Site:



According to their own terms and conditions and acceptable use policy they say that you "agree that you will not use their site for a variety of different factors including unlawful or fraudulent purposes". This is hilarious to say the least since this website is involved in their own fraudulent behavior simply by manufacturing profiles that do not resemble any real member of the site. These fake profiles are breaking their own terms and conditions, so they should sue themselves for fraud!

How To Contact The Site:
By Phone:
By Email:

[email protected]

By Web Site:
By Address:

LinkingLovers Ltd. 4th Floor, 1 Knightrider Court, London, EC4V 5BJ




57 Greek Street, First Floor, London, W1D 3DX, UK

How To Cancel Your Cheekydevil.com Trial & Monthly Membership:
If you want to cancel your paid trial or monthly subscription you can use the various methods that we have listed below to do so.
Cancel By Email:

[email protected]

,

[email protected]

Cancel By Phone: 1-800-489-6091
Cancel By Mail: P.O. Box 146, Trident Chambers, VG1110, Road Town, Tortola, British Virgin Islands
Your payment will be shown on your card statement as LNbill.com [email protected]
Domain Registrant Info:
Registrant Name: Vitaliy Didenko
Registered: on April 13, 2015
Hosting Company: Peer 1 Network
Hosting Location: 410 Terry Ave N., Seattle, WA, 98109, USA
Ip address: 52.17.11.71
Name servers:
Registrant Email:
Registrant Phone:

Other Sites On Same IP Servers:
None
Traffic Info:

Unique Daily Visitors: 400,000
Unique Monthly Visitors: 12,000,000
(traffic statistics from January 2016 to June 2016)

The Judgment:

The devil is definitely behind Cheekydevil.com because this site is full of deceptions an outright tricks all used to target your wallet. Without any hard proof of what this site is really up to we can only speculate if they are providing a legitimate service or if everything is just fantasy. But still we feel it's our duty to warn our readers about the possibility of this site utilizing profiles that are fabricated.
Find Legitimate Women Here:
If you want to find real women on genuine dating sites go here.

File Consumer Complaints & Report Abuse: