Scam Alert: Cheatinghookup.com Isn't A Real Dating Service



Site Reviewed:
Cheatinghookup.com:
Summary Of The Scam:
Bogus Female Profile Pages Created To Trick Members

Bogus Automated Emails Created To Trick Members

Bogus Female Profiles Controlled By Cheating Hookup Employees
Bogus Female Profile Pages Created To Trick Members:



How would you feel if the girl you met online was lying to you, using a photo from 10 years ago? How would you feel if a whole dating site was using pictures of girls who weren't even looking to hook up with anyone? That is exactly the scenario being played out on Cheatinghookup.com. The people who own this site are responsible for using pictures of beautiful women to create bogus member profile pages. This isn't a "conspiracy theory", this is a verified fact that comes straight from the horses mouth. When we joined and started searching around we noticed all the girls had "Online Cupid" on the top of their photo. Upon digging deeper we learned that "Online Cupids" were basically the site's definition for bogus member profiles! And the really astonishing and awful part of all this is that the people behind the fake girls isn't some romance scammers located in Nigeria. The crooks and liars behind all of this are the sites owners who are located in California, not some third world country! These guys are scamming people right in their own backyard.
This site makes it very easy to pinpoint which member profile pages are a legitimate. They have the online Cupid logo

on every single bogus member profile page. That's great that they actually identify which profiles are fake however how they stop creating any bogus member pages to begin with? Another way to spot the fakes is to look for the most attractive women and most likely they will be fake. These are the kind of woman who would have absolutely no problem meeting guys and they would be the last women on earth to join these type of hookup dating sites. BUT, using provocative images of beautiful females draws the men into registering on the site. It's all a marketing scheme to fleece men of their money.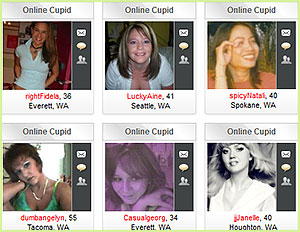 Every girl was an Online Cupid.
Taken from the terms page in section 9 c 1:
"THIS SITE USES FANTASY PROFILES CALLED ONLINE CUPIDS®: You understand, acknowledge, and agree that some of the user profiles posted on this site may be fictitious and operated by the Site or its contractors. These profiles and related messages are conspicuously labeled with the Online Cupids logo

. You understand, acknowledge, and agree that the information, text, and pictures contained in the Online Cupids® service profiles do not pertain to any actual person, but are included for entertainment and educational purposes only. Life events, experiences, interests, and geographic locations are fictitious. Nothing contained in any Online Cupids® service profile or message is intended to describe or resemble any real person – living or dead. Any similarity between Online Cupids® user profile descriptions or images and any person is purely coincidental..
Bogus Automated Emails Created To Trick Members:



The emails, so many email messages we received and every last one wasn't legit. All emails were from you guessed it from Online Cupids! We have a screen capture that you can look at that shows only of of the messages showing the Online Cupid logo. That proves the emails are all a scam.
Why Do They Send Phony Emails?

It's another marketing scheme that works like a charm. They send you messages that seem to come from good looking girls as soon as you reply BOOM you have to pay for a membership. There must be large amounts of men who are gullible and get scammed by this fraud. They want your money and manipulating you into upgrading is how they do it!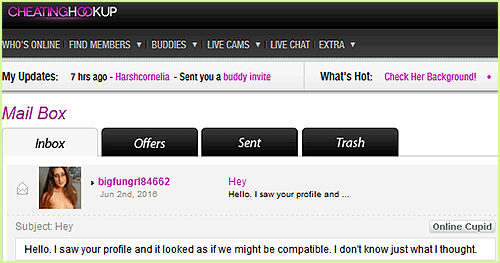 Taken from the terms page in section 9 c 1:
"Messages sent from our Online Cupids® service may be automatically generated with no human involvement, and Online Cupids® messages and/or correspondence may be generated by third-parties hired or contracted by Us. The Online Cupids® service is also intended to proactively monitor user activities and other communications to ensure compliance with Our Privacy Policy, internal operating policies, and Our Terms and Conditions.
Bogus Female Profiles Controlled By Cheating Hookup Employees:



This company runs and operates a very detailed and elaborate rip off that they are even employing people and using third party contractors who get compensated to disguise themselves as female members looking to hook up with you. These third-party contractors and employees are paid to operate the fictitious Online Cupids member profile pages.
They interact with you via the online instant message chat windows and pretend to be the people in the fake profiles. Of course they are not the people in the profiles, but they chat with you and try to lure people into chatting so you will have to purchase a membership.
If you think about it for a minute it's quite fascinating that they came up with such an elaborate scheme making and utilizing profiles that don't even exist. The main ingredient to a popular dating site is to have attractive women and then all the guys will flock to the site. But on hookup sites highly attractive women aren't going to register on them. Hot women have no problem meeting men in the first place and the last thing they need to plaster their nude photographs is on a hook-up site. If you're currently in the members area of the site just understand that all the Online Cupid profiles take photos from adult image sites and then build profiles with the photographs. That's the only reason why there are so many good looking women on Cheatinghookup.com, most of them are not real! With the profile they start sending you instant messages and then guys upgrade and BOOM they just got conned!
Taken from the terms page section 9 c 1:
"Messages sent from our Online Cupids® service may be automatically generated with no human involvement, and Online Cupids® messages and/or correspondence may be generated by third-parties hired or contracted by Us. The Online Cupids® service is also intended to proactively monitor user activities and other communications to ensure compliance with Our Privacy Policy, internal operating policies, and Our Terms and Conditions."

How To Contact The Site:

How To Cancel Your Trial & Monthly Membership:
If you want to cancel your paid trial or monthly subscription to Cheatinghookup.com you can use the various methods that we have listed below to do so.
Domain Registrant Info:
Registrant Name: DOMAIN ADMINISTRATOR
Registered: on July 5, 2014
Hosting Company: DENIRO MARKETING, LLC
Hosting Location: 6777 Embarcadero Dr, Suite #3, Stockton, CA, 95219, US
Ip address: 173.241.1.82
Name servers: NS1.CENTURIONHOSTING.COM, NS2.CENTURIONHOSTING.COM, NS3.CENTURIONHOSTING.COM, NS4.CENTURIONHOSTING.COM
Registrant Email:

[email protected]

Registrant Phone: 357.22678944

Other Sites On Same IP Servers:
Over40only.com, Affairhookups.com, Hookupcougars.com, Seekingmilf.com, Cheatinghousewife.com, Milfsconnection.com, Milfshookup.com, Cheatingcougars.com, Milfsaffair.com, Datingaffair.com
Traffic Info:
Unique Daily Visitors: 28,000
Unique Monthly Visitors: 840,000

(traffic statistics from November 2015 to April 2016)

The Judgment:

Cheatinghookup.com is a fraud, no doubt about it. They even come clean and acknowledge everything! Where are the government agencies to protect consumers? We have done our job and warned you, now you can help and spread the word. Share this review with as many people as you can. This dating service is not real.
Deceiving people is all this company knows. They have no qualms about manipulating, lying and making fools out of their customers who buy memberships on their site. To them it's just part of their daily business. But, realistically what is their business model? It's basically stealing from hard-working people who are only looking to hook up with people in their community. But what are they getting the end, NOTHING!
Find Legitimate Women Here:
If you want to find real women on genuine dating sites go here.

File Consumer Complaints & Report Abuse: