SeekingMilf.com Has Partnered With www.Alison-Saladino.us To Spam

Site Reviewed:
Alison-Saladino.us is a spam dating site. Through this investigation we were able to track their hosting server which is actually located in India. Many times spammers are located in third world countries such as India and this makes it very difficult to prosecute them. This particular spam site s used to uch people to SeekingMilf.com

Evidence:
Junk Email: Below is the spam email received.
Alison Saladino sent you a friend request
Message from Alison Saladino:
Hi dear, mind me adding you to friends? 😉
http://www.alison-saladino.us/
<http://www.alison-saladino.us/ uses url redirection to go to http://www.seekingmilf.com/>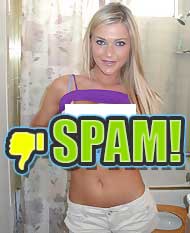 ---
Registrant: John Emmerson
Registered on July 16, 2014.
Hosted at 140 Quai Du Sartel, 59100 Roubaix, France
Ip address: 188.165.195.99
Name servers: NS1.CANBENEFICIAL.COM, NS2.CANBENEFICIAL.COM, NS1.CHARGEHANDED.COM, NS2.CHARGEHANDED.COM
Registrant Email: [email protected]
Registrant Phone: 1.1138940913

Other Sites On Same IP Servers:
sonya-hajek.us

,

kristi-segars.us, danielle-hickox.us,

deborah-lamarre.us, portia-tilghman.us, traci-fox.us

Places To Report Spam: