Why Is AffairAlert.com Using Fake Girls And Automated Emails?



Site Reviewed:
AffairAlert.com:
Summary Of The Scam:
Fake Girls Known As "Fantasy Cuties"

Every Girl We Came Across Was A "Fantasy Cutie"

Member Profile Photos Found On Porno Sites

Automated Emails That Require You To Activate A VIP Pass
Fake Girls Known As "Fantasy Cuties":



Do you know what a "Fantasy Cutie" is? If you're interested in looking for real women, you need to stay clear of "Fantasy Cuties". FYI, "Fantasy Cuties" are fake women that have been fabricated and created by AffairAlert.com. This is a verifiable fact that can be found in the terms and conditions (section 4) of the website. You need to ask yourself why would a dating site create fake profile for females? It's because they don't have nearly enough women to compensate for the amount of men on their site. For every 100 men there is less than one real female. They also use these Fantasy Cuties" as part of their so called "marketing program', which is nothing more than a bunch of different scam tactics used to push and entice you into buying a monthly subscription to their services.
When you register on the site directly on the homepage you need to acknowledge and agree to the use of Fantasy Cuties". Most men probably don't even see this because they're too horny thinking about all the girls they think they are going to hook up with. But if they read that simple statement they would have realized that this site is not operating in a legitimate manner, and actually this sit should be avoided at all costs.


(You need to acknowledge that you understand what "Fantasy Cuties" are. This was on the home page of the site if you clicked the link "Fantasy Cuties" link this is the pop up message you would have seen. However most people aren't paying attention.)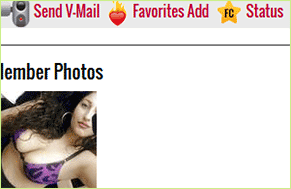 This is an example of a "Fantasy Cutie" we found while researching. The logo for a "Fantasy Cutie" is the yellow star with the FC in the middle of it.
Member Photos Found On Adult Websites:



One of the tools we use when investigating dating sites is a little software program that can detect where images are located all over the internet. Using this software we detected many profiles with images found on porn websites but being used as photographs in member profiles. On top of that this profile is also a "Fantasy Cutie", which of course is a fictitious female member.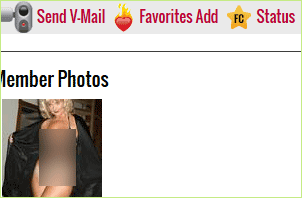 This female member of Affair Alert has the exact same photograph that is also found on porn sites! See the screenshot of the various sites below that have the same image. The sites include Ampland.com, Lolatube.com and Mothertits.com. This profile is fake and is part of the "Fantasy Cutie" program, as you can see with the yellow star with the FC letters in the middle of it.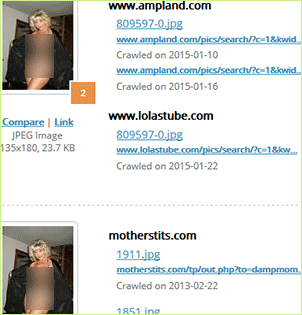 (This fictitious female member is also found on multiple other sites that we have already mentioned.)
Automated Emails That Require You To Activate A VIP Pass:



We got 4 emails from attractive looking women. Two of them were completely nude. And the other two were big breasted women who look like porn models. So what's going on here? Are these real girls that are just horny and looking to get laid? Unfortunately no, these women are not looking to get laid, they are part of the "Fantasy Cutie" program which uses computer generated messages and send those messages via email to its male members. The emails look real if you have no experience with dating sites. The kicker is if you want to read any of the messages you need to activate your VIP pass in order to do so.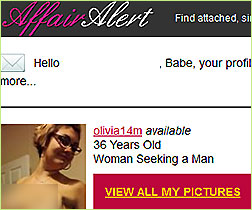 (This girl emailed us, too bad she's a "Fantasy Cutie".)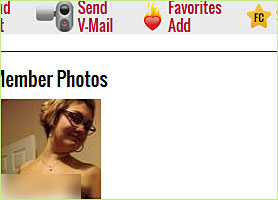 (Do you see the yellow star? Now you know that this is a fake member and not a real person. Always watch out for the yellow star logo that way you know for sure that its a fake profile.)
Affair Alert Is For "Amusement Purposes Only" Not To Created To Actually Meet People:



AffairAlert.com as it states in section 4 of the terms page is "for amusement purposes only". Now if you think about that for a minute that means the site is not really intended for you to meet real people. This site has been designed strictly to amuse you. When you're at a circus you are getting amused, clowns amuse you but if you're on a dating site you're looking to meet people not become amused! This means that your chance of meeting someone on the site is basically nil. As should be expected since they use "Fantasy Cuties" as part of their marketing program to get you to buy their membership packages.
In the same terms and conditions of states "All content is provided for the entertainment and amusement of You. Our Site does not guarantee that You will find a date, partner, or participant, or that you will meet any member in person. ". Of course you cannot meet any member in person since they are all "Fantasy Cuties". They are not lying when they state that the site is for amusement purposes only, it truly is.
No Class Action Law Suits Allowed:



And if you're thinking of suing them because of their fraudulent business tactics you better think twice. According to the terms and conditions that you agree to there is no class act class action lawsuits that you shall participate in. According to the terms you cannot do any form of class action against the company is directors, officers, shareholders, employees or it's agents. You are waiving all your legal rights when you use this dating service. We have no clue if this is legal or not. Can this company actually stop you from doing a class action lawsuit against them, we don't know we are not lawyers. But, the fact that they have to put this in their terms and conditions really shows how scared they are of people suing them for fraud and deceptions that they use on their members.

How To Contact The Site:
By Phone: 844-399-9749, +1-619-900-1607 OUTSIDE USA
By Email:

[email protected]

By Address: HEYWOOD HOUSE SOUTH HILL ANGUILLA, N/A AI-2640 ANGUILLA

How To Cancel Your Trial & Monthly Membership:
If you want to cancel your paid trial or monthly subscription to this site you can use the various methods that we have listed below to do so.
Domain Registrant Info:
Registrant Name: WHOIS AGENT
Registered: on October 1, 2012
Hosting Company: Amazon Technologies Inc.
Hosting Location: 423 Terry Ave N Seattle, Washington, USA 98109
Ip address: 54.164.146.37
Name servers: NS1.POWERZX.COM, NS2.POWERZX.COM, NS3.POWERZX.COM, NS4.POWERZX.COM
Registrant Email:

[email protected]

Registrant Phone: 1-425-274-0657

Other Sites On Same IP Servers:
Cougarcrush.com, Flirtbuddies.com, Milfaholic.com, Localmilfselfies.com, Localblackmilfs.com, Selfiebbws.com, Blackcrush.com
Traffic Info:
Unique Daily Visitors: 48,333
Unique Monthly Visitors: 1,450,000

The Judgment:
"Fantasy Cuties" are littered through out this site. We didn't find one real female member that didn't have the "Fantasy Cutie" logo on it. Do you want to waste time chasing imaginary girls? Stay away from this site, it's nothing but a con.
Find Legitimate Women Here:
If you want to find real women on genuine dating sites go here.

File Consumer Complaints & Report Abuse: