Xcheaters.com Seems Like A Legit Site To Meet Married Women? Think Again!



Site Reviewed:
Xcheaters.com:
Summary Of The Scam:
Xcheaters.com Confesses To The Use Of Computer Generated Virtual Profiles

Artificial Profiles That Use Computer Robot Software To Email Fake Messages

They Have A Legion Of Paid Employees Trained To Sell You A Membership Package

This Site Is Intended For Entertainment And For No Other Purposes
Xcheaters.com Confesses To The Use Of Computer Generated Virtual Profiles:



Not only does Xcheaters.com confess to the use of computer-generated fake member profiles but they clearly posted it on the front of their website, directly on the homepage just below where you have to agree to the terms and conditions. It's there for everyone to see in gray text (if you took the time to pay attention).


(I also agree to communications from computer generated virtual profiles, targeted to me and my interests, sent by XCheaters.com.)
The administrators of this site are directly telling you exactly what they are up to but for unknown reasons mass amounts of people are utterly shocked when they get scammed. How can you get tricked into joining this site when it says directly on the homepage that they create virtual profiles? First off the text is small and it is a light grey color so it's a little bit difficult to see but you should always have your guard up, so when when you run into situations like this you are prepared.
Unfortunately far too many people fall for these ridiculous dating con jobs. They get duped into these type of scams time and time again and then they have to go through the hassle of canceling their paid membership and sometimes even canceling their credit card because they can't seem to stop the monthly recurring charges from sites like Xcheaters.com.
The fake profiles they create are used just like fishing bait on the end of your hook when you go fishing to catch some a trout. These fake profiles are created to get you to take the bait. Taking the bait means buying their membership. And many, many people get duped into this process.
Taken from the terms page section i6:
"in order to enhance your enjoyment of the time you spend with us, we will employ technical means to engage you in the simulation of flirting with and discovering other attractive people. If we do it well, you may never be able to tell that we are doing it or know when it happens… In order to enhance your amusement experience, to stimulate you and others to use our Services more extensively, and to generally sprinkle some sparkle and excitement into the Services of XCHEATERS.COM, we may post fictitious profiles.. You may encounter profiles that are total fakes and you may receive communications from total fakes through our services. By "total fakes" we mean to include profiles that are total fiction, pure and simple, posted by people who bear no resemblance whatsoever to the identity described and we mean also to include communications generated by people who are deceiving you in every regard about their identity, description, and motives and communications… "
They Have A Legion Of Paid Employees Trained To Sell You A Membership Package:



Did you end up joining the site, did you chat with a real person on this site? We hate to tell you this but they have a legion of employees that are trained in the art of chatting with you. The number one goal of these paid employees is to sell you an upgraded paid recurring monthly membership package!
Just like there are sales centers used to sell timeshares to people Xcheaters.com must have some sort of boiler room where people are employed and paid to sell you monthly membership packages. This is the staple of their operation and without it they would not have a profitable business.
Once again you will do yourself a great service if you read the terms and conditions of this site. They openly admit and outline how they employ people to interact with their members. Once you read the terms, it's quite shocking to what they explain openly and have been doing so for at least the last 4 years. They admit all of the paid employees are used for "business purposes" (chatting with you so they can sell you a paid membership) .
Taken from the terms page section i6 :
"we may employ or contract for the paid services of real persons who may interact with you as part of their compensated employment. While these communications may seem genuine, authentic, and personal, they may be broadcast simultaneously to a large number of persons and possess none of these qualities. While their contents may appear to be true, they may be quite false; while their contents may appear to sincere, they may be quite disingenuous. Sometimes, we may use these techniques or others like them for other business purposes..The real people you meet, if any, may be total imposters and may have malicious or pecuniary motives; they may even be paid to engage you.."
Artificial Profiles That Use Computer Robot Software To Email Fake Messages:



The artificial profiles are used in conjunction with computer robot software programs that are specifically designed to automatically email free members of Xcheaters.com.
Unfortunately you cannot distinguish between a legitimate email message and one that has been created by the Xcheater computer robot program. This is one of the reasons many men get taken in from these seductive emails. Everything looks on the up-and-up. Who would be able to come to a conclusion that robots are sending you emails unless you took the time to read the terms and conditions or read the statement on the homepage.
In any case this gimmick works well and is one of the main funnels that enable the administrators of Xcheaters to make millions of dollars in income per year.
Taken from the terms page section i6:
"we may post fictitious profiles, generate or respond to communications by means of automated programs or scripts that simulate or attempt to simulate your intercommunication with another real human being (though none really exists and any dialog is generated by programming…)"
Your Profile Must Be Truthful And Accurate But Xcheaters.com Owners Can Make Up Fake Profiles?



Reading through the terms and conditions we found it quite amusing that they state that your profile will be truthful, accurate and complete. How they have the audacity to write this in the terms conditions is beyond us, since they are the ones themselves creating untruthful and unaccurate member profiles of women also known as "computer generated virtual profiles". We just thought we'd point that out as a little bit of humor and as well as being a head shaker.
Taken from the terms page section i6:
. All of the registration information you provide us about yourself – whether online or offline – whether in person at our parties and business events or in correspondence or otherwise – will be truthful, accurate, and complete

How To Contact The Site:

How To Cancel Your Trial & Monthly Membership:
If you want to cancel your paid trial or monthly subscription to this site you can use the various methods that we have listed below to do so.
Cancel By Email: support@xcheaters.com
Cancel By Phone: 877-680-4898
Cancel By Mail: FH International Limited, PO Box 440, Envoy House, La Vrangue, St Peter Port, Guernsey, GY1 3ZN
Domain Registrant Info:
Registrant Name: Direct Privacy
Registered: on October 28, 2010
Hosting Company: Peer 1 Network
Hosting Location: 1919 8th Ave, Seattle WA 98109
Ip address: 176.34.237.27
Name servers: NS-377.AWSDNS-47.COM, NS-1442.AWSDNS-52.ORG, NS-1779.AWSDNS-30.CO.UK, NS-562.AWSDNS-06.NET
Registrant Email: xcheaters.com@domainnameproxyservice.com
Registrant Phone: 1.5043550082

Other Sites On Same IP Servers:
None
Traffic Info: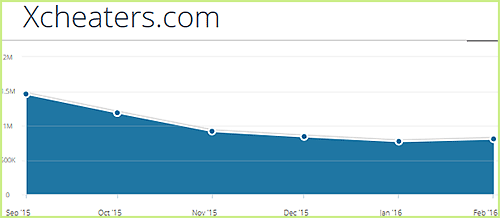 Unique Daily Visitors: 27000
Unique Monthly Visitors: 810,000
(traffic statistics from September 2015 to February 2015)

The Judgment:

Xcheaters.com and Gonnabang.com (the dating site we reviewed previous to Xcheaters.com) are both owned by the same company. If you plan on joining any other dating sites you always need to keep your guard up, there are countless other frauds out there. Xcheaters has proven to us that they cannot be trusted, we suggest you take our advice strongly.
Find Legitimate Women Here:
If you want to find real women on genuine dating sites go here.

File Consumer Complaints & Report Abuse: