Xmeeting.com Still Scamming People After All These Years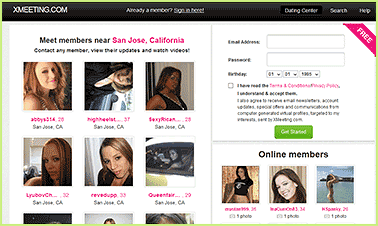 Site Reviewed:
Xmeeting.com
Summary Of The Scam:
Computer Generated Profiles (False Profile Pages) Created By Xmeeting.com Staff

Independent Contractors & Employees Hired To Lie To You

Automated Software Programs Used To Generate Fake Emails That Are Sent To Their Members

Automated Software Programs Used To Generate Fake Instant Messages That Are Sent To Their Members
Computer Generated Profiles (False Profile Pages) Created By Xmeeting.com Staff:



When you join a dating service the last thing you expect is for there to be fake profiles that have been created and designed by the site's own administrators. It's really unfortunate because that's the exact what's going on with XMeeting.com. The people behind this site have no qualms and no regrets about conning their users. They do this with the utilization of bogus profile pages that they and their employees are making. Using photos of attractive looking women they create hundreds of made up profile pages.
The really unfortunate thing is thousands of lonely men get taken in from these bogus dating profiles. Unfortunately there are hundreds of sites like this and XMeeting.com is only one in a massive pool of scams and deceptions. The main ingredient for this fraud is the fake women that they create. A quick
read of their terms and conditions
page reveals everything anyone would need to know. They confess and tell the world that they are behind creating bogus profile pages on their site.

Screen capture of the computer generated profiles.
Why do they create bogus profile pages on their own site?

The answer to this is that the amount of women joining sex dating sites is very slim. The ratio of men compared to women is 10 men for every one female. This doesn't work out too well if you're trying to create a dating site for sex hookups. You're not going to get very many men joining the site and willing to pay if there are a very limited pool of real women. From the administrators thinking the idea of creating bogus profile pages is a great idea because then you can create as many fake girls as you want (even though it's a fraud). This gives the impression that the site has a large amount of hot looking women ready to have sex with any man who joins the site. Unfortunately this is completely false.
Taken from the terms page section i.6:
"In order to enhance your amusement experience, to stimulate you and others to use our Services more extensively, and to generally sprinkle some sparkle and excitement into the Services of XMEETING.COM, we may post fictitious profiles…:
Independent Contractors & Paid Employees Hired To Lie To You :



How would you like a job lying, deceiving and wasting people's time while also making them pay a monthly fee to interact with you? That is the job description of third-party contractors who are employed by Xmeeting.com to interact, send emails, flirt and pretend to be interested in any men who join theXmeeting.com site.
You can only wonder if these people sit in some type of boiler room making money while lying to as many people as possible. Chances are the girl you're chatting and interacting with is probably going to be some guy located in the Philippines. You really have no idea who you're chatting with on sites like this one. And to add insult to injury all of this is clearly discussed on their terms and conditions page. They tell the world exactly what they're doing but unfortunately most people don't take the time to read the terms. But that's okay we got your back and we're here to blow the lid off this con. So please understand that any attractive looking women on this site are probably going to be paid contractors and not legitimate females looking to get laid. Once you understand that then you will not have to worry about getting duped.
Taken from the terms page section i.6:
"and we may employ or contract for the paid services of real persons who may interact with you as part of their compensated employment."
Automated Software Programs Used To Generate Fake Emails That Are Sent To Their Members:



One of the quickest ways to identify a dating site is fake is when you start getting email messages even if your profile is empty. On top of that if the emails start within minutes of joining the dating service guess what it's probably going to be a con. These kind of bogus websites have devised a master software program capable of sending emails automatically to people who register on the site. The scenario works like this, you join Xmeeting.com and email messages will start filling up your inbox in a very short time span. This trick works very well because it gets your attention. If you don't have any clue that they're using automated software programs you think that real women are sending you emails.There's only one catch you need to have an upgraded paid subscription to send emails and to read emails from other members on the site. Unknown to you is the fact that the emails you are receiving are not real. The emails are fictitious and the female profiles behind the emails are bogus, essentially it's all one big master plan to scam you out of your money. And this particular dating site has been using the same operating manual for many, many years and still going strong with millions of visitors to the site on a monthly basis.
Taken from the terms page section i.6:
"we may post fictitious profiles, generate or respond to communications by means of automated programs or scripts that simulate or attempt to simulate your intercommunication with another real human being (though none really exists and any dialog is generated by programming)…While these communications may seem genuine, authentic, and personal, they may be broadcast simultaneously to a large number of persons and possess none of these qualities. While their contents may appear to be true, they may be quite false; while their contents may appear to sincere, they may be quite disingenuous."
How You Can Get Your Money Back:



What can you do if you pay for a membership on this site only to read this now and finally realize you've been gone? There are a couple of things that you can do to fight back, the first thing we suggest is for you to cancel your membership on the site. Secondly you should contact your bank and or credit card company to try and get your money back refunded to you. You paid for a service that's not there so it's your right to a full refund because they are not offering the service that they advertises to you. You should also contact the FBI, and the FTC (Federal Trade Commission). You can't let these people get away with these crimes because they are literally making millions of dollars every year and they continue to get away with it.

How To Contact The Site:
By Phone

1 661 705-5088
Address: Service Development Limited, PO Box 440, Envoy House, La Vrangue, St Peter Port, Guernsey, GY1 3ZN
By Email:

[email protected]

How To Cancel Your Trial & Monthly Xmeeting.com Membership:
If you want to cancel your paid trial or monthly subscription to this site you can use the various methods that we have listed below to do so.
Domain Registrant Info:
Registrant Name: Registration Private
Registered: on May 16, 2002
Hosting Company: Amazon Technologies Inc.
Hosting Location: 410 Terry Ave N., Seattle, WA, 98109, USA
Ip address: 54.76.78.111
Name servers: NS-946.AWSDNS-54.NET, NS-215.AWSDNS-26.COM, NS-1368.AWSDNS-43.ORG,NS-1584.AWSDNS-06.CO.UK
Registrant Email:

[email protected]

Registrant Phone: +44.8708200283

Other Sites On Same IP Servers:
None
Traffic Info:
Unique Daily Visitors: 53,000
Unique Monthly Visitors: 1,050,000


(traffic statistics from May 2016 to October 2016)

The Judgment:

Xmeeting.com is probably one of the most notorious dating scams online. This dating fraud has been in business for many years ripping off thousands and thousands of consumers making millions of dollars in the process. For some reason there seems to be no end in sight to how much money this fake dating service can make law officials where are they to be found?
Find Legitimate Women Here:



If you want to find real women on genuine dating sites go here.

File Consumer Complaints & Report Abuse: