Xpickup.com Confesses To Deceiving Their Own Users With All Types Of Scams



Site Reviewed:
Xpickup.com:
Summary Of The Scam:
Artificial (Fake) Member Profile Pages Infest The Site

Fake Emails Sent To Members To Dupe Them Into Upgrading

They Hire People To Pretend To Be Real Members But They're Not
Phony Profiles Hidden In Plain View Used To Deceive People:



We're really tired of these fraudulent dating sites taking us for fools. You can fool some of the people some of the time, but you can't fool all of the people all of the time! The people who operate Xpickup.com think they can fool us but they can't! They seem to think it's perfectly fine to use profile photos that aren't connected to anyone on the site. To be perfectly blunt they have profiles that are fake all the way through. The pictures are fake and copied or maybe even stolen from who knows where and then use to build artificial profiles. And the ludicrous part of it all is they tell everyone they do this by posting the following statement on the front page:
"I also agree to receive…communications from computer generated virtual profiles, targeted to my interests, sent by XPickup.com."
Wait, what? You must agree to receiving emails and instant messages from girls who appear to be members of X Pickup but they're not!? The lunacy it that thousands of people mostly men still end up joining this site because they have the attention span of a squirrel. But do they know the site is one big lie? Probably not because they don't pay attention. But you can see the proof of their fraud on the home page of their site.

Taken from the terms page section i6:
"In order to enhance your amusement experience, to stimulate you and others to use our Services more extensively, and to generally sprinkle some sparkle and excitement into the Services of STEAMYDATES.COM, we may post fictitious profiles…"
Fake Emails Sent To Members To Dupe Them Into Upgrading:



The second thing they do that is most likely illegal is use automated computer software systems built to emails their own members. The emails are designed to make it appear like a real person is emailing you as well as emailing other members of the site. The emails might ask you "for your photos" or "wants to know more about you" etc. It's all an complex scam using computer software and the gullibility of lonely people. This con ends up fleecing thousands of people. The general population has absolutely no idea that X Pickup is using software to send and even reply back to messages is possible. And this is how they deceive people.
Men in particular are the target of these type of cons because in general they are easy to fool. Immediately after receiving emails from females on X Pickup chances are they fly out of their computer chair to email the girl back. BUT, it's all a delusion. First off there isn't a sexy girl sending you any messages. It's just not happening because this site clearly states that they use "automated programs to simulate you communication with another person but none really exists". They're' telling you that they're scamming you, and they tell you exactly how they do it! Guys, if the web site is detailing how they are deceiving their own members you should take that a massive warning sign to run as far away as you can from Xpickup.com.
What's the point in them sending guys who join their website phony automated emails? This is a hookup site and we have noticed that there are a much larger percentage of men joining compared to women. This is understandable since it's a sex hookup site. The member ratio (amount of men compared to women) will always be skewed with much more males than females registering on these type of dating sites. So this is a problem for the owners of sites like Xpickup.com. What do they do to alleviate this problem is to just make lots of fake profiles. And with the made up women they send emails to you and to anyone else who registers on their site and make it seem like the automated emails are from the fake profiles. And they explain all of this on their terms page!
Taken from the terms page section i6:
"we may generate or respond to communications by means of automated programs or scripts that simulate or attempt to simulate your intercommunication with another real human being (though none really exists and any dialog is generated by programming), While these communications may seem genuine, authentic, and personal, they may be broadcast simultaneously to a large number of persons and possess none of these qualities."
Fake Emails Sent To Members To Dupe Them Into Upgrading:



How would you feel if you joined a dating site thinking you are interacting and chatting with real women. Meanwhile the instant message was sent to you from someone who was paid and was deliberately misleading you so you would buy a membership to their fake dating service? Xpickup.com is doing exactly that and their terms and conditions page outlines how they do it. It's quite unbelievable to imagine that a dating site would actually pay people to chat with you but that's what's going on here. With online dating being a billion-dollar industry many fraudulent dating sites have taken it upon themselves to create fake profiles using automated bots and even hire people to chat with you all in an effort to get your credit card information so they can make a recurring monthly subscription from you.
Taken from the terms page section i6:
"and we may employ or contract for the paid services of real persons who may interact with you as part of their compensated employment. While these communications may seem genuine, authentic, and personal, they may be broadcast simultaneously to a large number of persons and possess none of these qualities. While their contents may appear to be true, they may be quite false; while their contents may appear to sincere, they may be quite disingenuous. Sometimes, we may use these techniques or others like them for other business purposes, too, including, but not limited to those cases in which we monitor and/or investigate into operations, including but not limited to allegations that you or others have violated this Agreement."
Dating Image Providers Offering Fake Dating Profiles For Sale:
We've already proven that this website uses profiles that are nothing but real. But where the hell did they get these photos from? We're not sure if this is going on specifically with Xpickup.com but there are companies that enable you to set up your own dating site by selling fake dating profiles. These profiles have everything in them (photos, data info etc), you can even purchase profiles based on various areas of the world including Africa, Europe, Asia and so on. So then your website looks a lot more legitimate. Fake dating profiles start at $145.99 for 1,000,000 fake American profiles. Take a look at the
rates to buy phony dating profiles here
. Fraudulent dating sites can also use
bulk image down loaders
to download images from all types of site from Flickr,as well as any other photo site or image gallery. This just illustrates how easy it is for people with no morals to create fake sites and start scamming people.

How To Contact The Site:
By Phone: 1-866-883-4978 or 1-925-264-3473
By Email:

[email protected]

By Web Site: Xickup.com/help
By Address: PO Box 440 Envoy House, La Vrangue St Peter Port Guernsey GY1 3ZN

How To Cancel Your Trial & Monthly Membership:
If you want to cancel your paid trial or monthly subscription to this site you can use the various methods that we have listed below to do so.
Cancel By Email:

[email protected]

Cancel By Phone: 1-866-883-4978 or 1-925-264-3473
Cancel By Mail: FH International Limited, PO Box 440, Envoy House, La Vrangue, St Peter Port, Guernsey, GY1 3ZN
Domain Registrant Info:
Registrant Name: FH International
Registered: on October 2, 2008
Hosting Company: Amazon Data Services Ireland
Hosting Location: 1200 12Th Avenue South, Seattle, WA, 98144,
Ip address: 54.228.206.139
Name servers: ns-338.awsdns-42.com, ns-1422.awsdns-49.org, ns-1567.awsdns-03.co.uk, ns-652.awsdns-17.net
Registrant Email:

[email protected]

Registrant Phone: 44.8708200283

Other Sites On Same IP Servers:
None
Traffic Info:
Unique Daily Visitors: 28,333
Unique Monthly Visitors: 850,000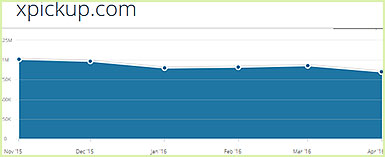 (traffic statistics from November 2015 to April 2016)

The Judgment:

There are literally hundreds of fake dating sites just like xpickup.com waiting to scam you. Everything you have read in this review can be taken and used when researching other dating sites. The best thing to do to keep safe is always use Google to search for reviews on any product including dating sites that you intend to register on. It's the quickest and most efficient way to see if a dating site is a legit site or con. Xpickup.com is guilty of creating fake profiles and hiring people and using automated bots.
Find Legitimate Women Here:
If you want to find real women on genuine dating sites go here.

File Consumer Complaints & Report Abuse: