You Won't Believe How MeetWives.com Scams People, This Review Uncovers How They Do It



Site Reviewed:
Meetwives.com:
Summary Of The Scam:
They Use Fictitious Profiles To Fool People

They Use Automated Programs And Programming To Send Fictitious Emails To Their Members

They Hire And Employ People To Deliberately Mislead You
They Use Fictitious Profiles To Fool People:



Do you actually think that the women on this site are real? Shame on you! Stop being so gullible, this site goes out of their way to create female profiles and disguise them as real members that are looking to hookup with guys. Apparently MeetWives.com "uses fictitious profiles in order to enhance your amusement experience". They're not too concerned about you meeting real people it's all about amusing you while you're on the site. Unfortunately it's difficult to tell which profiles are fake and which are real so you should go under the assumption that every female member profile is manufactured by this site.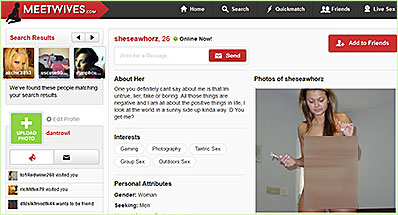 This profile was found on Meetwives.com, it's fake. You can see below all the other places where the exact same photo can be found online.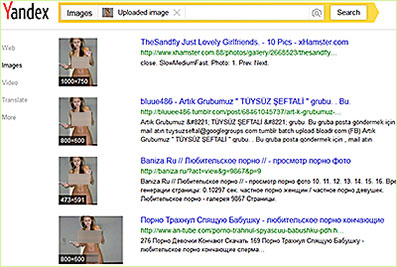 This is not a member of Meet Wives. The photos shown above are the exact same photo used in a fake profile on the site.
Taken from the terms page:
"In order to enhance your amusement experience, to stimulate you and others to use our Services more extensively, and to generally sprinkle some sparkle and excitement into the Services of MEETWIVES.COM, we may post fictitious profiles."
They Use Automated Programs And Programming To Send Fictitious Emails To Their Members:



You may be asking yourself what the hell are automated programs and how are they used to send people fake email messages? Automated programs are computer software programs that have been designed exclusively to perform specific tasks. These tasks include sending email messages to members of Meetwives.com. The email messages sent to their free members are created to look like they have been emailed from legitimate female members. Not known to the people receiving these emails is that the emails are completely fabricated and sent using automated programs and computer programming. The messages might look real but they are definitely not. These emails are sent to every single male member who has joined the site and created a free account. The hope is that you as a free member will want to upgrade your membership so you can contact the women back who sent you emails. This isn't the only dating site using this type of fraudulent behavior, far from it but be forewarned that the email messages you receive on this dating service will be completely automated.
"we may generate or respond to communications by means of automated programs or scripts that simulate or attempt to simulate your intercommunication with another real human being (though none really exists and any dialog is generated by programming), While these communications may seem genuine, authentic, and personal, they may be broadcast simultaneously to a large number of persons and possess none of these qualities."
They Hire And Employ People To Deliberately Mislead You:



Do you like chatting with people who are paid to pretend to be interested in you? The employees who work at Meetwives.com are hired and employed to deliberately mislead you into upgrading. These people can be defined as digital escorts, but without the happy ending. They pretend to be interested in you but in reality all they want is your money. The people employed to act like real female members will do or say pretty much anything except meet you in person. They can never meet you in person because they're not from your location, they're not the age they say they are, and the girl in the photo you're chatting with is not the person you're really interacting with. In fact the person you're chatting with its probably not even a girl to begin with, let that sink in for a minute!
You Can't Make A Fictitious Profile:



This is a real head shaker. While deciphering the terms and conditions we came across a statement that said "you cannot use any type of scripts or programming for messages emails or other communications that may be generated automatically". How surprising is that when the website's own admissions clearly state that they themselves send automated email messages to their members!
On top of that they prohibit the creation of fake profiles that don't resemble or describe you. All you need to do is go up a couple paragraphs in this review and you will read how Meet Wives is clearly involved in fabricating fake female member profiles. This site is all about double standards. They can do anything they want, but if you create a fake profile or send out automated email messages even using an auto responder that is strictly prohibited. This is laughable to say the least. And is irony at its best!
Taken from the terms page:
"Any 1) unfair, untrue, misleading, unfairly competitive, fraudulent or deceptive act, practice, communication, transmission or statement whether or not criminal under the laws of any jurisdiction, or which is calculated to achieve any such an improper purpose and 2) the use of any script, program, or other method or technique by which messages, emails, replies, or other communications may be generated and/or transmitted automatically (other than your "out of the office" automatic reply to emails or messages stating that you are unavailable and may be reached at a later time). This prohibition includes for purposes of an example, but is not limited to, the creation of fake profiles that do not even approximately describe you, but which, in fact, describe another person, fictitious or otherwise."

How To Contact The Site:
By Phone: 1-925-264-3473

and 1-866-883-4978
By Email:

[email protected]

By Web Site:
By Address: PO Box 440 Envoy House, La Vrangue St Peter Port Guernsey GY1 3ZN

How To Cancel Your Trial & Monthly Membership:
If you want to cancel your paid trial or monthly subscription to this site you can use the various methods that we have listed below to do so.
Cancel By Email:

[email protected]

Cancel By Phone: +41 (0) 91 60 464 86
Cancel By Mail:
Domain Registrant Info:
Registrant Name: HK International Limited
Registered: on November 18, 2013
Hosting Company: Amazon.com, Inc
Hosting Location: 1200 12th Avenue South Seattle, WA 98144 USA
Ip address: 54.228.195.0
Name servers: ns-1831.awsdns-36.co.uk, ns-1135.awsdns-13.org, ns-443.awsdns-55.com, ns-642.awsdns-16.net
Registrant Email:

[email protected]

Registrant Phone: 44.8708200283

Other Sites On Same IP Servers:
None
Traffic Info:
Unique Daily Visitors: 43,333
Unique Monthly Visitors: 1,300,000


(traffic statistics from December 2014 to May 2015)

The Judgment:

There is nothing worse that a double standard. When someone is allowed to do something but if you try to do the exact same thing you are not allowed. This website creates fake profiles, sends out automated emails and even hires people to make believe they're interested in you. If you do any of that it is strictly prohibited, but they can do whatever the hell they want! Using this site after all the information you've read is ludicrous, run the other way when you see Meetwives.com.
Find Legitimate Women Here:
If you want to find real women on genuine dating sites go here.

File Consumer Complaints & Report Abuse: