How To Cancel Your WildBuddies.com Account & Delete Your Profile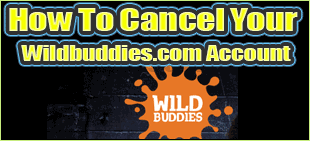 This tutorial show you how to delete your profile and cancel your membership on Wildbuddies.com. If you don't know that Wild Buddies is a fake dating service we're telling you right now. We did an extensive review on this website that you can read here. The crooks behind this site think it's okay to scam people. But we're fighting back by writing this tutorial to show you how to cancel your account and get your money back. Follow the directions below to delete your profile page and terminate your paid membership. On top of that we recommend that you call your bank and your credit card company and get your money back. Tell them you got scammed from Wildbuddies.com because they use fake profiles on their site and you should have no problem getting your money back. This is not a legit online dating service, it's a fraud! Follow the directions below.
How To Delete Your Wildbuddies.com Account / Profile



Login to Wildbuddies.com
Click on your profile photo, located at the top right hand side of the page.
Now you are on your account page.
Scroll down the page and click on "remove account".
Enter your password, then click continue.
Scroll to the bottom of the page and choose "remove my profile", then click continue.
Choose why you want to remove your profile.
You will see the question "Are You Sure You Want To Leave?". Click "Yes, I want to remove my account".
Next click on "confirm removal", now your account will be removed from their site for good.
How To Cancel Your Paid Membership / Subscription



You may contact Wildbuddies support by email at

[email protected]

Wildbuddies.com, or call them at 1-800-489-6091. You need to give them your user name and email address.
If you bought a membership with your iPad, or smart phone: Android, iPhone etc then follow the instructions below.
Cancel Subscription On Your Android Device
Open Google Play Store app.
Touch Menu
then My Apps
Then Subscriptions
Then tap on the Wild Buddies app of the subscription you'd like to cancel.
Tap "Cancel" and "Yes" to confirm the cancellation of the WildBuddies app on your Android device (phone or tablet).
Cancel Membership On Your iPhone / iPad
Go to Settings, then iTunes & App Store.
Touch your Apple ID which is located at the top of your screen.
Touch View Apple ID.
Touch Subscriptions.
Touch the Wild Buddies membership.
Use the options to cancel your monthly membership.
How To Contact Their Customer Support



You can reach customer service by email at [email protected]Wildbuddies.com, or call them free at 1-800-489-6091 or 1-212-796-574. Their address is Cupid Plc, 410 Park Avenue, 15th Floor, New York 10022, USA and P.O box 146, Trident Chambers, Road Town, Tortola, British Virgin Islands.
Find Legitimate Women Here:



If you want to find real women on genuine dating sites go here.