Freehookupsearch.com Is Partnered With Marian-Plott.biz To Spam Us

Site Reviewed:
The person or people that own the domain name www.Marian-Plott.biz are sending spam from multiple domains including this one. This domain is being used to email us illegal spam emails that send us to Freehookupsearch.com (a fraudulent dating service).

Evidence:
Junk Email: Below is the spam email received.
Email address:

[email protected]

Subject of email:

Hey Stranger! This is Marian. CALL ME!

Headers:

from mailserver.localhost.com ([69.85.183.4])
This is my online portfolio: <http://www.Marian-plott.biz/ uses url redirection to go to http://www.Freehookupsearch.com/tour/best-adult-dating/>
Call me today!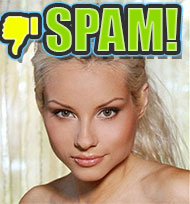 ---
Registrant:
Registered on May 25, 2015.
Ip address: 188.165.201.224
Name servers: NS1.LONGEDPORTRAIT.COM, NS2.LONGEDPORTRAIT.COM, NS1.LARGEWISHES.COM, NS2.LARGEWISHES.COM
Registrant Phone: 507.8365503

Other Sites On Same IP Servers:

Places To Report Spam: