How To Cancel Your Blackcrush.com Account & Delete Your Profile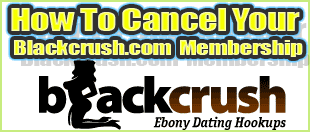 Had enough of Blackcrush.com and want to know how to delete your profile and cancel your monthly membership? We have complied all the info that's required in this quick tutorial. Also if you through you were going to get laid when you joined the site only to find out you wasted money it's not your fault. Black Crush uses fake girls to con into paying for a membership, it's all a scam. We did a review on Blackcrush that you should read to learn how the con job works.
The Steps To Delete Your Blackcrush.com Profile Page



You need to Login to your account on Blackcrush.com.
From there you need to go to your "Account Settings" which are located on the top left of the site.
The you have to go down the page and look for the text "Delete my login and profile".
Then click that link.
Then click on the brown button that says "delete my login"..
This will delete your profile from the site and will not be able to login after you cancel your profile.
Now you need to enter your password, after that then click on the black button that says "Delete My Login".
You get redirected to another page with the statement saying "Your Profile has been Permanently Deleted from the system."
How To Cancel Your Paid Membership / Subscription



Go to the contact page for Trustedassist.com, their customer support site
You need to fill out the form.
Then click submit.
How To Contact Them



Need to get a hold of customer support? Contact the via email at [email protected]. Call them at 800-564-9432 or outside the USA at +1-727-755-7249. Their brick and mortar address is Plymouth Associates Ltd. Heywood House, South Hill Anguilla.
Find Legitimate Women Here:



If you want to find real women on genuine dating sites go here.