How To Cancel Your Xmeets.com Membership & Delete Your Profile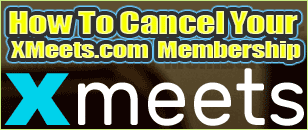 If you joined Xmeets.com looking to meet women only to be sadly disappointed and ripped off (if you bought a membership), then you're going to want to follow this tutorial. This tutorial explains how to delete your profile and also how to cancel your paid membership.
If you haven't read our
review of
Xmeets.com
you might want to get up to speed as to why you never met anyone on the site. To put it point-blank this site is nowhere near being a legitimate dating service, it has all the cards stacked against you. They use fictitious profiles throughout their website to dupe people into upgrading to paid memberships. We suggest you call your bank and try to get the money you paid for the memberships returned to you since it's all a fraud.
How To Delete Your Xmeets.com Account / Profile



Login to Xmeets.com
Go to the "Account Settings" link, located top left of the web page.
Scroll down that page and look for "Delete my login and profile" button.
Then click on the blue button that says "delete my login".
Enter your password.
Then you should see the following statement, "Your Profile has been Permanently Deleted from the system".
How To Cancel Your Paid Membership / Subscription



Visit their support site at Trustedassist.com.
To send an email to them click this link.
Fill in the form with you name, email address, username, nature of request (cancel membership) and your message to them (request to cancel membership).
Then click send your message.
How To Contact Them



If you need to contact Xmeets.com you can use the various communications methods shown here. You can email them at: [email protected] and call them toll-free 800-564-9432, if you don't live in the USA use this number to reach them (1-727-755-7249) and also send an email to their address Plymouth Associates Ltd. Heywood House, South Hill Anguilla.
Find Legitimate Women Here:



If you want to find real women on genuine dating sites go here.