Illegal Spam From Nostringsfun.com Received From Elisa-Wickstrom.biz's Owners

Site Reviewed:
Elisa-Wickstrom.biz is a newly registered domain name. Using url direction they are using this domain to forward people to Nostringsfun.com. Take a look at the evidence below. If you have gotten emessages from Elisa-Wickstrom.biz you can find out where to report the spam.

Evidence:
Junk Email: Below is the spam email received.
Email address:

[email protected]

Subject of email:

Elisa Wickstrom SENT YOU A FRIEND REQUEST

Headers:

from mailserver.localhost.com (u121-146.static.grapesc.cz. [78.111.121.146])
Elisa Wickstrom sent you a friend request
Message from Elisa Wickstrom:
Hi dear, mind me adding you to friends? 😉
<http://www.elisa-wickstrom.biz/?p= uses url redirection to go to http://Nostringsfun.com>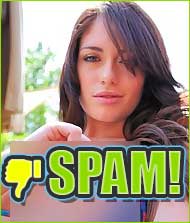 ---
Registrant:
Registered on June 5, 2015
Hosted at Rukan Tanjung Mas Raya Blok B1. No. 5, Jagakarsa, Jakarta, Indonesia
Ip address: 27.123.220.220
Name servers: NS1.GETSSUBSCRIBED.COM, NS2.GETSSUBSCRIBED.COM, NS1.GRADEVACANT.COM, NS2.GRADEVACANT.COM
Registrant Phone: 507-836-5503

Other Sites On Same IP Servers:
none

Places To Report Spam: