Is Fucknow.com Misleading People? Our Covert Investigation Breaks It Down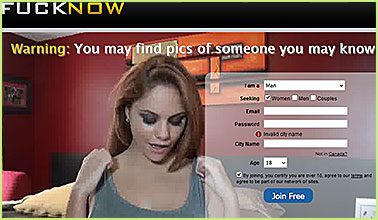 Site Reviewed:
Fucknow.com
Summary Of The Scam:
Many Email Messages That We Got Were Automated "Ice Breakers"

Email Messages Sent To Us From Fake Girls / Automated Bots
Many Email Messages That We Got Were Automated "Ice Breakers" :



We thought we should give you a heads up to something that you should be aware of on FuckNow.com. We have personally received automated messages from women on the site. These automated messages are called 'Ice Breakers' and apparently 'Ice Breakers' popped up on our screen because we have 'matched the preference of one or more members on the site'. If you have the impression that these women were writing emails directly to you composing you a personal message that is absolutely not the case.
The website is using sophisticated artificial intelligence computer technology that automatically emails you. This is not a personal message, no female is actually writing you an email message. It's a computer and it's something you should be aware of. Not all messages on the site are 'Icebreakers' but a good portion of them are. Please don't get too excited when you receive messages, make sure that they are not Icebreaker messages beforehand.
Another fact that you should be aware of is that if you try to chat with the people who sent you the automated Icebreaker message you need to upgrade your membership. All of this is used to get people to upgrade but once again understand the email messages are not being written by a girl who looked at your profile and sent you a personal message. A computer system sent you an automated message and if you want to read that message you need to upgrade and purchase a monthly membership to FuckNow.com.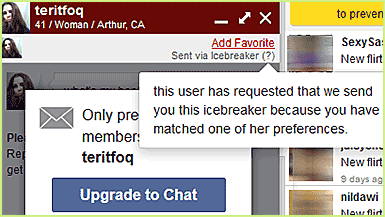 An example of an 'Ice Breaker' message that popped up on our computer screen.
Illegitimate Chat Messages Used As An Instrument To Defraud People:



Not only did we get Icebreaker messages but we also received automated email messages as well. The website discusses automated emails in their terms. Messages that are emailed to us require us to upgrade so we can read the contents of those messages.
The site does tell us that they use automated messages and a 'response program that they have termed While You Were Away'. If you were wondering if you did receive automated messages the answer is yes. Fucknow.com does send automated messages to their users.
Something else to note is that the profile we used for this covert investigation has no information or pictures. In all honesty we shouldn't be getting any email messages so it raises a red flag when we that we are getting emails since the profile created for this review is empty. It doesn't make much sense that we should be getting emails when our member page has no pictures in it or any type of data.
Something else that you can do on your own time is create an account on FuckNow.com and you can also leave your member profile empty and see what happens. If you see the same results as us please leave a comment below. We would like to compare apples to apples and see if other people are seeing the same results as (getting email messages when your member profile has no pictures or data).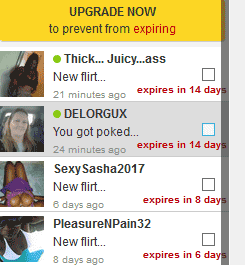 An example of emails that popped up on our computer screen requiring us to upgrade.
Taken from the terms page under "while you were away" section:
"The Site may, from time to time, offer an automated message and response program called "While You Were Away". You may change your settings for "While You Were Away" at any time by updating your account settings."

How To Contact The Site:
By Phone:1-(877)-446-0676 (US and Canada)
00-800-5566-2222 (International) Countries Supported
0011-800-5566-2222 (Australia)
Address: 705 Washington Ave, Miami Beach, FL 33139
By Email:

[email protected]

How To Cancel Your Trial & Monthly Membership:
If you want to cancel your paid trial or monthly subscription to this site you can use the various methods that we have listed below to do so.
Cancel By Email:

[email protected]

Cancel By Phone: 1-(877)-446-0676

(Toll-Free Number)


00-800-5566-2222

(Outside USA)

Cancel Membership: Gpnethelp.com
Domain Registrant Info:
Registrant Name:
Registered: on July 26, 2001
Hosting Company: Colosseum Online, Inc
Hosting Location: 8547 E Arapahoe Rd Suite #J292, Greenwood Village, CO, 80112, USA
Ip address: 208.91.207.91
Name servers: NS1.DPNET.COM, NS3.DPNET.COM, NS4.DPNET.COM, NS2.DPNET.COM
Registrant Email:

[email protected]

Registrant Phone: +1.4806242599

Other Sites On Same IP Servers:
Instabang.com, Fling.com, Uberhorny.com, Fuckdate.com, Milfplay.com, Snapsext.com
Traffic Info:
Unique Daily Visitors: 5,666
Unique Monthly Visitors: 170,000


(traffic statistics from August 2016 to January 2017)

The Judgment:

Okay so here's our final judgment on Fucknow.com. Many times dating sites will reveal in their terms and conditions that they make and use made up profiles and all these other little goodies like automated messages etc. They do tell us that they use 'Ice Breakers' which we've already discussed. And some of the emails that are also computer-generated. We're not saying this website is a scam but if someone asked us if it was worth joining we wouldn't suggest purchasing a paid membership. If you want to try and use it for free go for it, but paying for membership from our opinion is a different story.
Find Legitimate Women Here:



If you want to find real women on genuine dating sites go here.

File Consumer Complaints & Report Abuse: