Steamydates.com's Partner (Edna-hardage.biz) Is Violating Can-Spam Laws

Site Reviewed:
Steamydates.com is a dating service that is being marketed spammed to our email address. Using URL redirection a web site called Edna-hardage.biz is directing people to Steamydates.com. Learn where to report this illegal spam. They are breaking the laws of the can spam act issued by the Federal Communications Commission.

Evidence:
Junk Email: Below is the spam email received.
Email address:

[email protected]

Subject of email:

Hey Stranger! This is Edna. CALL ME!

Headers:

from mailserver.localhost.com ([195.35.96.21])
A friend of mine told me that I can easily find someone in my area for a discreet sexual encounter without any obligations. This is exactly what I want!
This is my online portfolio:
<http://www.edna-hardage.biz/ uses url redirection to go to http://steamydates.com, and http://www.Hornyaffairs.com/>
Call me today!
Naughty me!! 🙂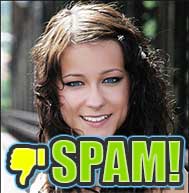 ---
Registrant:
Registered on June 9, 2015
Ip address: 66.235.194.33
Name servers: NS1.ENTREATDATED.COM, NS2.ENTREATDATED.COM, NS1.ELEVATIONNINTH.COM, NS2.ELEVATIONNINTH.COM
Registrant Phone: 507-836-5503

Other Sites On Same IP Servers:
none

Places To Report Spam: